Vegancuts Snack Box Review June 2023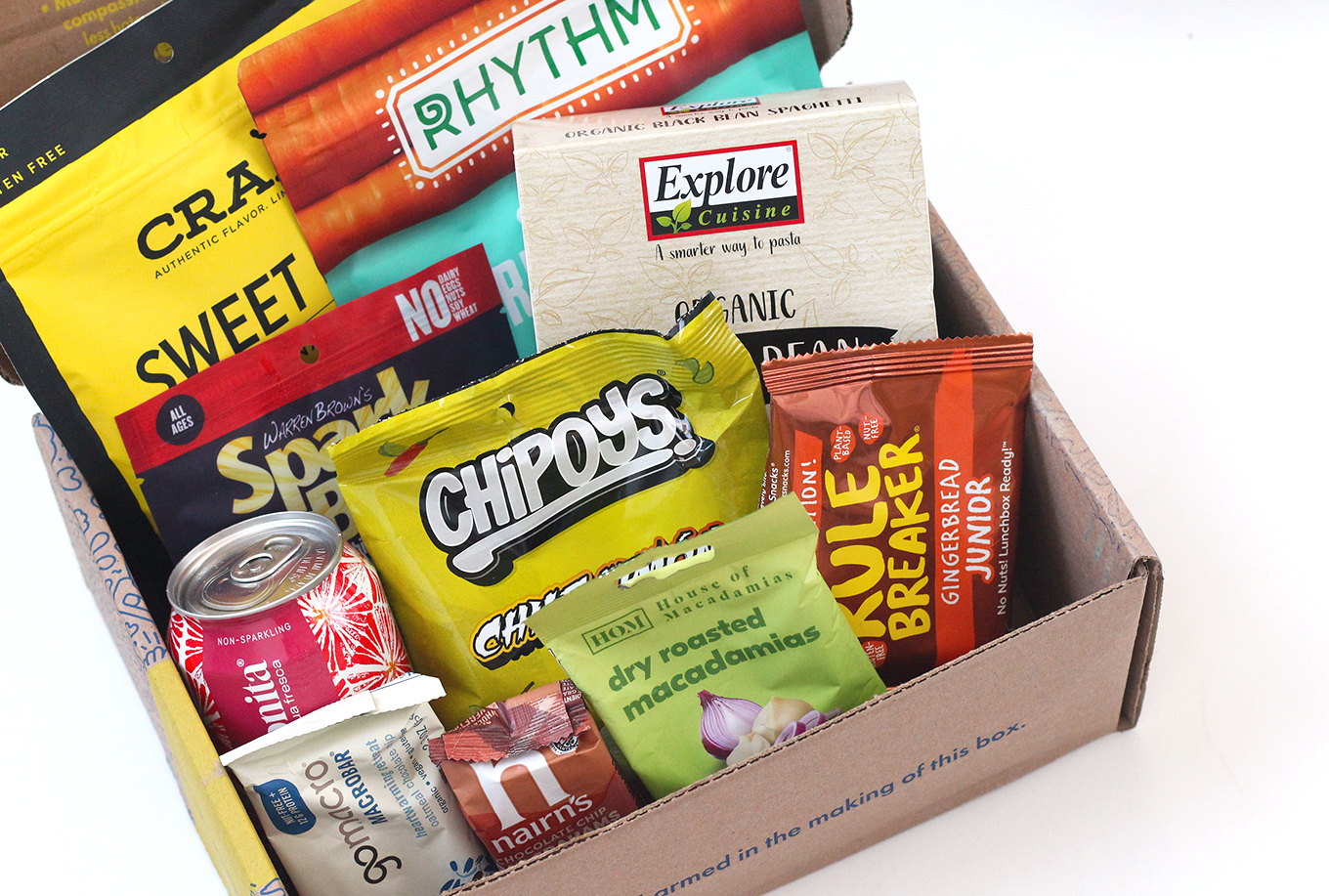 The Vegancuts Snack Box is a monthly subscription that brings you the best vegan snacks, meal items, and drinks. Each box is packed to the brim with sweet and savory vegan snacks to help you discover the best in plant-based living.
They kindly sent us this box to review.
Subscription Details
There are 4 subscription plan options for the Vegancuts Beauty Box – monthly, 3 months, 6 months, and 12 months. Monthly subscriptions cost $27.95 with savings for those opting for any of the longer term subscriptions. Shipping is free for US subscribers, $6.95 for Canada, and $14.95 for International subscribers.
Each box contains 10 or more vegan food products such as chips, cookies, sodas, and tea. The expert Vegancuts curator selects food products that not only are made with healthy ingredients, but also on the cutting edge of the latest vegan trends. Vegancuts boxes are about 80% gluten free and include many snacks that are non-GMO project verified and certified organic.
The theme for June is "Summer Sweet n' Spicy Snacks". Sounds interesting! Let's take a closer look at everything in the box.
Craize Sweet Corn Toasted Snack Crackers
These are corn based crackers that are perfect for dips, even though I really enjoy just eating them as is. They are lightly salted and crispy, kind of like a tortilla chip but in cracker form.
Chipoys Chile Limon Rolled Corn Tortilla Chips
These are easily my favorite thing in the whole box. They are just so addictive! Crunchy corn chip rolls that are spicy with just the right hint of lime. I could easily eat entire bags of these, they are just so good.
Rhythm Superfoods Ranch Carrot Sticks
These carrot sticks reminded me very much of sweet potato or yam chips – they have a similar bite and texture. I like the healthier alternative to a chip-type snack, but would have much preferred a different flavour. Just not a huge fan of ranch here.
Rule Breaker Gingerbread Junior Cookie
Gingerbread spice really reminds me of the holiday season! I really liked this cookie as a quick pick-me-up snack in the late afternoon.
GoMacro Oatmeal Chocolate Chip Macrobar
I ate this as a breakfast bar and really loved it! It was chocolatey and chewy, with just the right hint of sweetness and nuttiness.
Spark Bites Cinnamon Crunch Bites
These are little soft cookie bites filled with all sorts of plant-based goodness like chia, flax, and oats. Definitely a great little healthier snack alternative for when you get that sweet craving. I found the cinnamon a tad overpowering, but I usually do not like too much cinnamon so it's just personal preference.
Nairn's Gluten Free Chocolate Chip Oat Grahams
I believe this is a repeat item that was in a previous box. Not complaining though! It is one of my all time favourite cookies received from this subscription. These graham crackers are not too sweet, chocolatey, and has a slight nuttiness from the oats. Yum!
House of Macadamias Roasted Macadamia Nuts with Savory Onion Seasoning
I absolutely loved the macadamias in last month's box, so it's great to receive another pack in a different flavour! These are flavoured with onion powder which I enjoyed, even though I still prefer the simple salt and pepper flavoured ones in the previous box.
Agua Bonita Hibiscus Fresca Beverage
A sparkling, refreshing drink sweetened with apple juice. I like how it's not too sweet, and really good enjoyed cold.
Explore Cuisine Black Bean Spaghetti
This pasta is loaded with fibre and protein, and can serve as a good alternative to traditional pasta. I like to use this in a stir fry noodle dish with some soy sauce and vegetables. It just seemed to fit that flavour profile better instead of typical pasta sauces like a marinara.
Final Thoughts
I really enjoyed this month's Vegancuts Snack box, especially when it contains two of my favourite items ever received from this subscription so far. I absolutely loved the Chipoys rolled corn chips and the chocolate oat grahams. The other items were really good too! The only real misses for me are the Spark Bites and carrot sticks, but it's really just personal preference (as often is with food!) and I will likely try and enjoy the other flavour varieties of these snacks. Overall it is a fun experience as always just unboxing and trying all the different snacks.
Toby & Rocket – http://www.tobyandrocket.com