Hygge in a Box Review: The Father's Day Hygge Box 2022
I used to feel bad that my hubby spent his first Father's Day putting up wallpaper but looking back it was smart to set the bar low 'cause every one since has been an improvement. Even if we do nothing (or next to nothing 😬) it's better than 12 hours working with wallpaper paste. This year the kids made breakfast, cleaned up after, and we gave Dad this great Father's Day Hygge Box from Hygge in a Box. It's a thoughtful collection of Canadian products that encourage being mindful and enjoying the present, experiencing that wonderful sense of wellness and contentment that hygge in all about. Here's a look inside. (Hygge in a Box kindly sent us this one for review.)
The Father's Day Hygge in a Box included a card with a note from Hygge in a Box founders Jill Kantor and Lisa Kroft, who share tips for cultivating a hygge mindset on one side and a guide to the contents on the other. (I've included the product descriptions in italics below.)
Like the quarterly subscription, single box and group & corporate boxes, this one shipped shipped across Canada and the US. To find out when Hygge in a Box will ship internationally and other news, sign up for the co's newsletter here (scroll to the bottom of the page for the form).
Maple Bourbon BBQ Sauce · "Gourmet Inspirations' founder brings his culinary roots from his grounding on their family farm in southern Manitoba where days were spent immersed in the garden, handling fresh, hearty ingredients, and naturally in the kitchen cooking for family and friends. Each product has been carefully tested and crated by using wholesome Canadian ingredients — always local where possible — and free of preservatives. This BBQ sauce is smooth with notes of dark balsamic vinegar. Perfect for slathering, pouring, drizzling, brushing, glazing and dipping."
Dad is the head chef and grill master at our house and I can't wait to see what he'll serve up with this sauce. (It sounds delicious! 😋) We're moving next week and haven't done a lot of cooking but once we've unpacked the air fryer, this sauce is going in! (We're due for a new BBQ.)
Campfire in a Can · "To hygge is to be calm, comfortable and cozy. Like a warm hug, a wood burning fireplace or bonfire creates an instant cozy atmosphere. the sounds, smell and heat from a fire is a special thing and a unique atmosphere we can't get any other way. Made by The Little Wood Chipper in Lorette, MB, this campfire in a can is ideal for campers and hikers and is perfect for making a small fire on the go. It's 100% natural and is made of soy wax wood shavings and ground pinecones. Three hour burn time, outdoor use only."
This campfire is a mood. Instantly soothing and smells so good! Made me want to roast marshmallows and tell ghost stories. Dad's been talking about putting a fire pit in our new place and thought this tinned version was a neat idea.
Lake Louise Tumbler · "Lake Louise is one of the most scenic views in the world. The turquoise glacial lake is surrounded by breathtaking mountain ranges. This 12 oz Lake Louise tumbler from Calgary, AB based MTNPeak Glassware, has all the surrounding mountains keeping the lake and the valley in the middle. Pour your favourite beverage to toast your adventures while admiring the scenic mountain views surrounding Lake Louise, Alberta. Each glass is handblown and may have slight variations. Glasses are made from borosilicate glass which is lighter and stronger than your standard soda lime glass."
Dad enjoys a cocktail or two on occasion and this glass is a beauty for bevvies of all kinds. A conversation starter as well.
Caesar Cocktail Kit · "With a sprinkle of ingredients and a twist of a jar, in just a couple of days, you can transform the simplest spirit into a remarkably delicious custom-created creation. Bloody Mary or Canadian Caesar? Whichever side of the border you're at, this tasty beverage from Tszuj Beverage Co is hard to beat. Imagine that same drink with all of your favourite ingredients jammed into the gin or vodka? Made with 100% natural ingredients. Crafted in the Canadian prairies."
He'd never admit it but my guy is a bit of a hipster and this DIY is right up his alley. (A couple of years ago we were overrun with mint and he made jars of mint simple syrup for mojitos.) Fun to share with friends too.
Toffee Crunch · "A hygge life is sweet. Layers of roasted pecans, buttery spiced toffee, and swirled white chocolate with cinnamon. The perfect savoury and sweet balance makes Utoffeea seriously addictive. Utoffeea was created by Cate Dyck; photographer, mom of 4, and lifelong Winnipegger. The goal has always been the same for Cate, to make treats that bring JOY to people. They carry their signature handcrafted toffee, a newly created popcorn line and seasonal treats like caramel apples."
Hygge in a Box has included Utoffeea treats in previous boxes so I was thrilled to try another one of their goodies. (Luckily Dad doesn't have much of a sweet tooth so he didn't mind sharing.) Delicately spiced with a marvellous crunch and creaminess too. I'd love to see it again!
Citrus Shower Steamers · "Start your morning on a high by filling your shower with the refreshing scent of lemongrass and orange with this shower steamers. Based in Stratford, ON, the makers at Apt. 6 saw how potent essentials are during their daughter's fight with severe anxiety. Her child psychologist incorporated essential oils and healing crystals in her therapy. Much to their astonishment, those ingredients had a very positive influence on her and they saw the benefit. They decided to start making products and haven't looked back! Portion of sales goes to non-profit organizations that are dedicated to and focus on child mental health."
Another Hygge in a Box fave and with good reason. These steamers transform a shower into a major spa moment. And we love a company that gives back. (I struggle with anxiety too so their story has my heart. ❤️)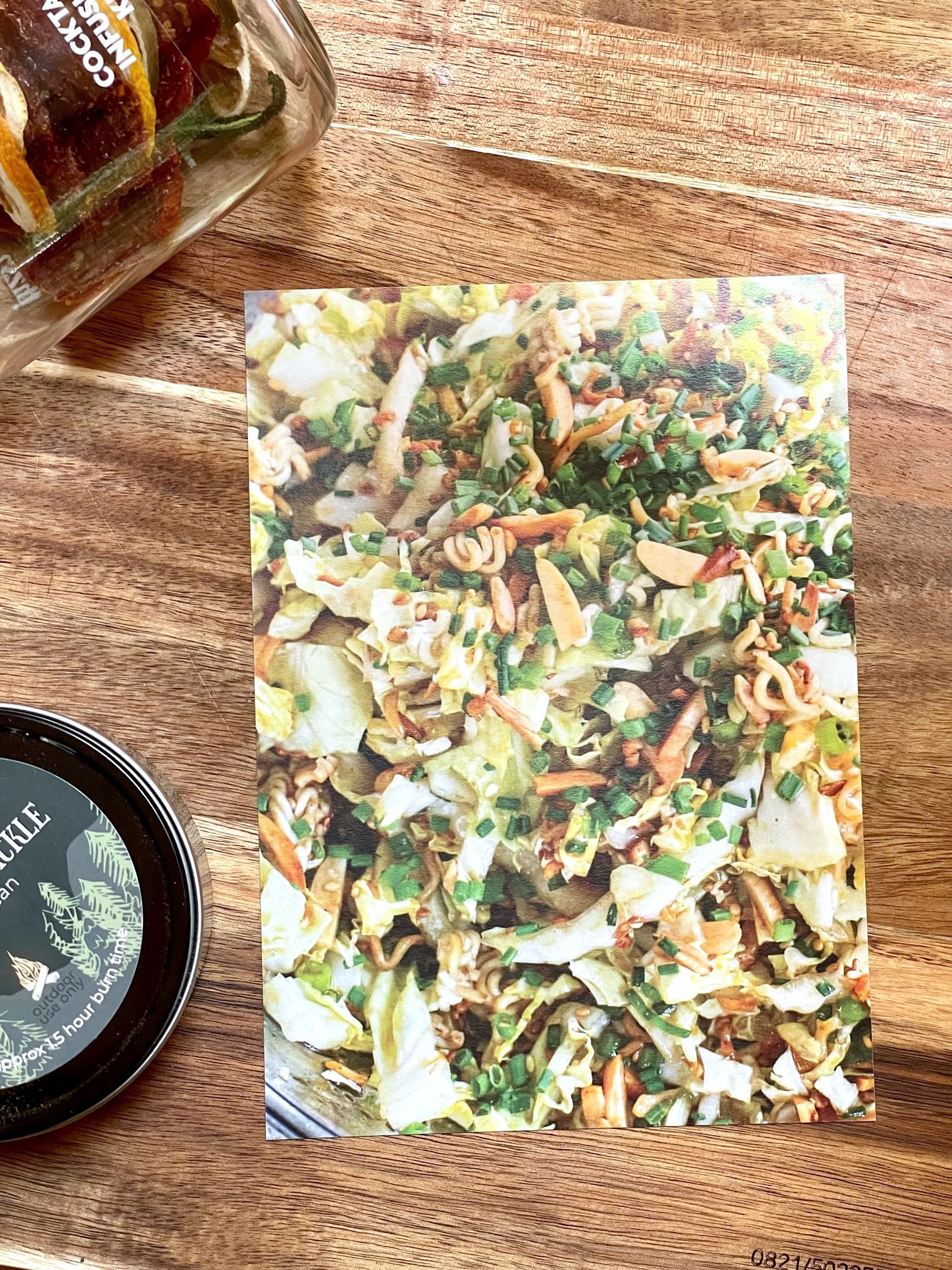 Asian Chicken Salad with Ramen Noodles Recipe · "This is one of our family's favourite salads for any occasion. It is a great side dish for summer potlucks, barbecues, or to serve with your dinner any day of the week. This will quickly become one of your favourites too!"
Jill and Lisa are sisters and often share a family recipe. As always, this one looks amazing! Perfect for summer and I think the kids would like it too. Another recipe to try when we get settled.
Like tools in a toolbox, the products in the Father's Day Hygge Box were curated to help Dads cultivate hygge, whether that's enjoying some mindful moments alone or living fully in the present in the company of family and friends. It's the perfect fit for my guy and a wonderful gift I think many Dads would appreciate.
The Father's Day Hygge Box from Hygge in a Box is sold out, but the Summer box is available to order until June 30 and ships late July. Like all of the seasonal boxes, it's available in small and large. Quarterly subscriptions are available as well. Annnnnnd you'll find a number of hygge books, accessories and even hygge sweatshirts in their shop.
Try Small Things – https://trysmallthings.com