Sweet Reads Box Review February 2019
No matter what life stage you are at time for yourself seems to get lost in the everyday. Sweet Reads Box is your chance to sit down, relax and enjoy a great read, a decadent sweet and a carefully curated item that ties to your novel. They kindly sent us this box for review.
It's always a good day when my Sweet Reads Box arrives. It's such a great box and so much fun to receive. It's definitely one of the best Canadian subscription boxes we discovered in 2018 and I can't wait to see what they have in store for us this year. I love to see subscription boxes grow and evolve.
Subscription Details
When you sign up for a Sweet Reads Box subscription you can choose a one month, three month or six month commitment.
What You Get: Each Sweet Reads Box includes the following….
Bestselling fiction novel – Your book will be chosen from one of the top bestseller lists.
Beautifully crafted items – Carefully selected to be the perfect match that connect to the novel in some way.
Artisan drinks – A delicious selection to set the mood and enhance your reading pleasure.
Gourmet goodies – A sweet treat to enjoy while reading and relaxing.
Here's a peek at the items we received in the February box…..
The Gown by Jennifer Robson
As fans of the royal family and having spent considerable time in England this was a novel we had to read. Once we started reading The Gown we were drawn into the story of Ann Hughes and Miriam Dassin. Their backgrounds so different but working together on a project they loved demonstrating their talent for embroidery. Throw in a granddaughter looking for pieces of her family's past and you've got a wonderful read. We hope you love the story of these women as much as we did.
Here's a little more info on the book:
From the internationally bestselling author of Somewhere in France comes an enthralling historical novel about one of the most famous wedding dresses of the twentieth century—Queen Elizabeth's wedding gown—and the fascinating women who made it.
London, 1947: Besieged by the harshest winter in living memory, burdened by onerous shortages and rationing, the people of postwar Britain are enduring lives of quiet desperation despite their nation's recent victory. Among them are Ann Hughes and Miriam Dassin, embroiderers at the famed Mayfair fashion house of Norman Hartnell. Together they forge an unlikely friendship, but their nascent hopes for a brighter future are tested when they are chosen for a once-in-a-lifetime honor: taking part in the creation of Princess Elizabeth's wedding gown.
Toronto, 2016: More than half a century later, Heather Mackenzie seeks to unravel the mystery of a set of embroidered flowers, a legacy from her late grandmother. How did her beloved Nan, a woman who never spoke of her old life in Britain, come to possess the priceless embroideries that so closely resemble the motifs on the stunning gown worn by Queen Elizabeth II at her wedding almost seventy years before? And what was her Nan's connection to the celebrated textile artist and holocaust survivor Miriam Dassin?
Choc Stars HRH 50% Bar
What better sweet treat for reading The gown than one celebrating her Majesty in a silly way – we loved this fun bar and hope HRH would too!
Oh my goodness! How on earth did they find a chocolate bar that pairs perfectly with the book?! And how on earth an I supposed to eat it? I want to save it and display it beside the book. Is that wierd?
Pluck Tea Earl Grey Cream
A cuppa tea is a constant source of comfort, tradition and celebration in The Gown. We know you'll love this blend of premium tea from a Canadian company.
Sweet Reads Box always includes some sort of tea, but this month it really is the perfect complement to the theme and the book.
Sniffs Vintage
Perfect for carrying in your purse for a cold day or any occasion (like a wedding) worthy of some tears of joy.
Such a cute little item to go with the theme this month. And….an item I will definitely get use out of. I always carry tissues in my purse.
NPW Pink Clay Sheet Mask
Preparing for a big day? We thought this facemask would be perfect to get you ready for your wedding or to attend one.
Awe, I LOVE that they included a face mask in the box this month. I can picture it now. A Friday night spent on the couch complete with a good read, a warm cup of tea, an adorable chocolate bar and a face mask. Good reads, good eats and pampering products. What's not to love?!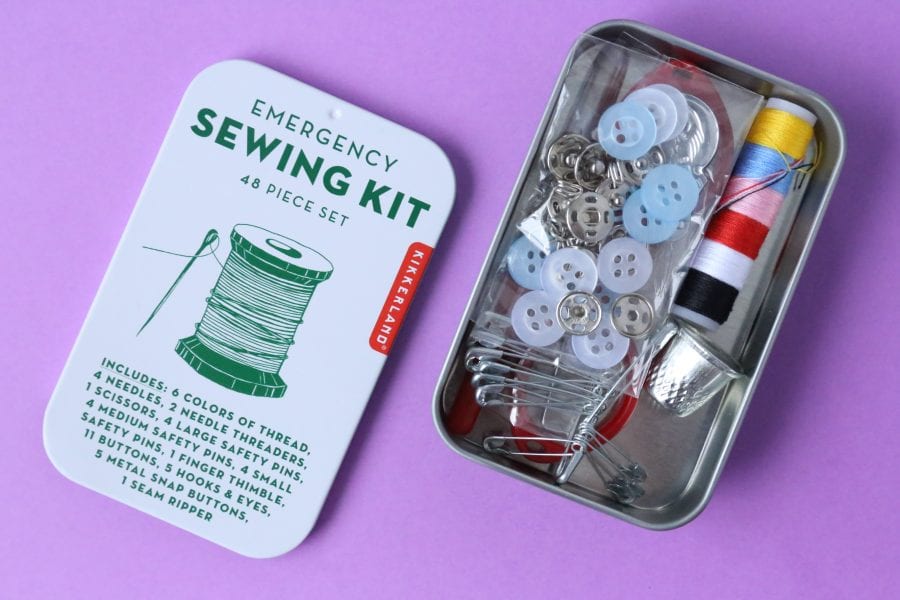 Kikkerland Emergency Sewing Kit
Similar to the sewing kit Miriam takes to Buckingham Palace we know you'll love having this kit on hand for when you have a sewing emergency.
I love that this little item is something similar to what one of the characters uses in the book. It's a lovely way to make you feel as if you are part of the book while you are reading it.
Sweet Reads Box Review February 2019 – Final Thoughts
Sweet Reads Box has become one of the boxes I look forward to receiving the most. It's such a lovely subscription, from beginning to end. Each month we receive a great read, the box itself has a fun theme, they include an informative product card, and the variety of items is perfect (in my personal opinion. I found myself really loving the product mix this month, even more than past months. I love that we received a chocolate bar, a face mask, and a couple of useful items that tied into the book beautifully. Sweet Reads Box continues to be a favorite.
XOXO