Sweet Reads Box Review March 2019
No matter what life stage you are at time for yourself seems to get lost in the everyday. Sweet Reads Box is your chance to sit down, relax and enjoy a great read, a decadent sweet and a carefully curated item that ties to your novel. They kindly sent us this box for review.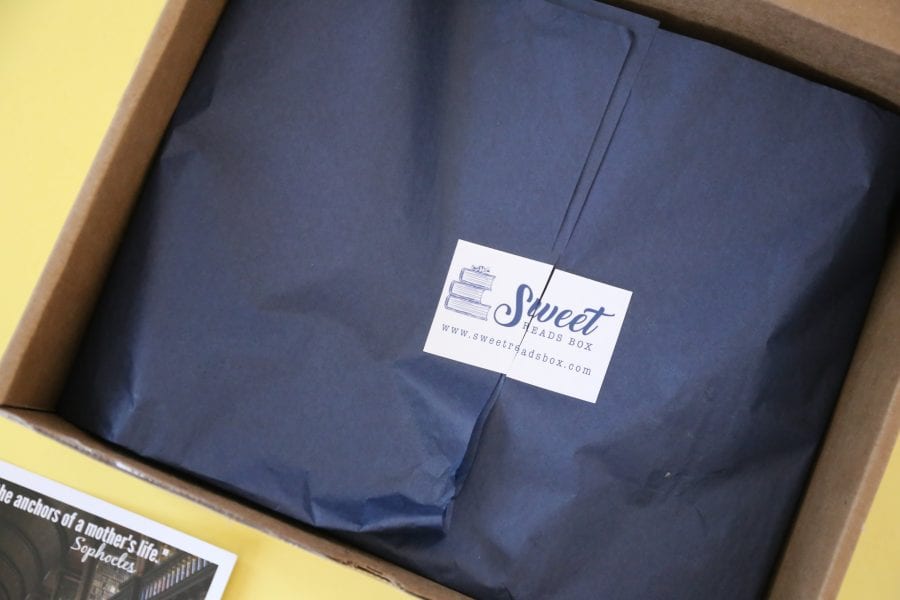 Oh my goodness. I am SO excited to share the March Sweet Reads Box with you. Even more excited than I usually am. I have loved this box from the first time I reviewed it, but the March box is  my favourite to date. This month's box has my name written ALL over it!
Subscription Details
When you sign up for a Sweet Reads Box subscription you can choose a one month, three month or six month commitment.
What You Get: Each Sweet Reads Box includes the following….
Bestselling fiction novel – Your book will be chosen from one of the top bestseller lists.
Beautifully crafted items – Carefully selected to be the perfect match that connect to the novel in some way.
Artisan drinks – A delicious selection to set the mood and enhance your reading pleasure.
Gourmet goodies – A sweet treat to enjoy while reading and relaxing.
Here's a peek at the items we received in the March Sweet Reads Box…..
Lying in Wait
The story of a murder and its aftermath told from three different but intertwined perspectives. Taking place primarily in Dublin, Ireland, author Liz Nugent expertly weaves the three central stories together. From the first line of this novel we know you will be hooked. Grab your sweet, your chocolate and get ready for a superb psychological thriller you cannot put down.
Yes, yes, yes!!! I was so excited to see a thriller in the box this month. I know they have included thrillers in previous boxes but so far this is the first one I have received. And, it just so happens that I had my eye on this particular book. I've been on a bit of reading binge as of late, and I've been spending a lot of time at the book store just browsing around – it's my happy place. I saw this book on the shelf and made a mental note to pick it up at some point.
It's classified as a thriller, mystery and suspense – all my favourites. It receives great reviews. This is the one that stood out to me – "Insidiously dark, an undertone of creepiness". Sounds like my kind of book. I really hope to see more like this in future boxes.
Milk of the Stars Sea Flakes – Willie's Cocoa
This artisan chocolate bar is imported from the U.K. and we could see Laurence favouring such a sweet.
Chocolate and books are the perfect pairing. I love sitting down at the end of the day with a cup of tea, a few squares of chocolate and a good book.
Irish Cream Hot Chocolate – Gourmet Du Village
Arguably one of the best-known beverage flavours from Ireland. Enjoy a cup of Irish Cream while reading Lying in Wait.
Ahh…..if this doesn't scream "curl up with a blanket and read a book" I don't know what beverage would. And would it be too much to add Bailey's to it? Probably not. Sounds like a great idea if I do say so myself.
Pill Box – NPW
Pills play a prominent part in this story. This handy pillbox is perfect for pocket or purse when you do not need to carry the whole bottle.
Irish Accent Gum – Blue Q
While imagining Irish accents for the characters of this novel why not chew a piece of this gum and try one on for yourself.
These are both small items but I love how they complement the book. And, I can always use tiny containers to carry my pills in, especially when travelling.
Claddagh Socks – Socksmith
Irish themed socks to get your Irish on any day. The Claddagh is said to symbolize love, loyalty and friendship – a concept that ties many of this months' characters together.
I've really been enjoying the socks we receive in each Sweet Reads Box. I think it's such a great idea for a book box, and I love that I get to match my socks to my books.
Milk & Honey Cleansing Bar – The Perth Soap Co.
A beautiful cleansing bar from a favourite Canadian company, we could see Lydia using a product like this to keep her hands looking youthful.
I could smell this as soon as I opened the box. It has a fresh, clean scent and I am always happy to receive artisan soap. I like to keep a few in each bathroom.
Clover Pins – Kikkerland
The four-leaf clover is synonymous with Ireland. These pins can come in handy to post pictures like we imagine Laurence did of Karen.
Funny enough, I'm writing this review on St. Patrick's Day. Such a great idea to include an item that fits the theme of the box but also fits the March holiday.
Sweet Reads Box Review March 2019 – Final Thoughts
This is easily my favorite Sweet Reads Box to date. I squealed when I opened the box and saw Lying In Wait tucked inside. I can't wait to dive in to this book. I already know I am going to love it. I'm also extremely happy with the rest of the items we received this month. Chocolate, cozy socks, a beverage, new soap for my bathroom and a holiday themed goodie. This is the kind of box I visualized when I first discovered Sweet Reads Box. I couldn't be happier with the curation this month and would love to see them include thrillers on a regular basis.
XOXO