Sweet Reads Box Review October 2019
No matter what life stage you are at time for yourself seems to get lost in the everyday. Sweet Reads Box is your chance to sit down, relax and enjoy a great read, a decadent sweet and a carefully curated item that ties to your novel. They kindly sent us this box for review.
Sweet Reads Box is one of my favorite Canadian Subscription Boxes. They have been on the market since 2017 and I reviewed my first box last November. I have consistently been reviewing it for a year now, and one thing is for sure, it continues to be a favorite month after month.
I received my October Sweet Reads Box just over a week ago but I waited to post the review because I wanted to actually read the book prior to writing the review. When it comes to book subscription boxes sometimes I will read the book after I post the review and sometimes I won't read the book at all. But……as soon as I saw the Sweet Reads Box book choice for October I knew it was ultimately going to become one of my favorite books/boxes from SRB to date. So….I hunkered down and made time each day this past week to get some reading time in……and boy am I glad I did!
Subscription Details
When you sign up for a Sweet Reads Box subscription you can choose a one month, three month or six month commitment.
What You Get: Each Sweet Reads Box includes the following….
Bestselling fiction novel – Your book will be chosen from one of the top bestseller lists.
Beautifully crafted items – Carefully selected to be the perfect match that connect to the novel in some way.
Artisan drinks – A delicious selection to set the mood and enhance your reading pleasure.
Gourmet goodies – A sweet treat to enjoy while reading and relaxing.
Here's a peek at the items we received in the October Sweet Reads Box…..
The Nanny by Gilly Macmillan
The Nanny is the perfect novel for October. A complex thriller with twists that has us speeding through the novel to find out what really happened. When Jocelyn was seven her nanny, Hannah, left unexpectedly causing a devastating loss. Thirty years later Jocelyn has returned home to England with her daughter Ruby to live with Jo's mother Lady Holt. Soon after arriving at Lake Hall estate a skull is found in the estate's lake and the story takes off with all the women questioning everything they thought they knew about each other.
Oh my goodness! Love, love, love this book! It's exactly what I was hoping to see in the October box. Something dark and twisty but not too over the top. It kept me on my toes and wanting to read more. It made me think, and surprised me at the end. I love the dynamic between Jo and her Mom (Lady Holt) and also between Lady Holt and Ruby. It's one of my favorite reads of 2019.
Zing Lemon & Ginger Tea
A novel set in England needs a great tea to enjoy with it. We chose this Lemon Ginger Tea as a wonderful compliment to a cool fall day.
Tea goes perfectly with the setting of the book, and it goes perfectly with the box itself because I like to enjoy a good cup of tea while I read.
Choco Hippies Biscuits
Lady Holt and Ruby bake cookies (or biscuits) in the story. You will love these British biscuits as an accompaniment to the tea.
I remember the part in the story where Lady Holt and Ruby bake cookies. It's a nice little glimpse into their relationship.
Pill Container
Pills are an important part of the plot. These convenient pill containers are great for purse or pocket to carry medications or vitamins.
This actually arrived at the perfect time because I am taking quite a few vitamins now that I'm pregnant and love the idea of being able to take them with me in my purse. It also fits perfectly with the book because of the role pills have in the story line.
SRB Vinyl Stickers
To celebrate our anniversary we have included this sticker, which will look great on your iPad, like the one Ruby uses to play games.
Heart Candle Holder
Large candlestick holders would be impractical to fit in the box. We found these charming candleholders that symbolize love. While there is a lot of love in this book, a lot of it is misguided.
Misguided love is the best way to describe the relationships in this book, and one of the reasons it kept me wanting to read more. I just had to see how the relationships evolved in the end. This little candle holder is the perfect size for my bedside table or my office desk.
Tea Lights
Fall scented tea lights are the perfect match for the candle holder. Maybe you could use them to set a Halloween atmosphere.
These go perfectly with the candle holder and will be nice to have on hand. I like to keep at least a few tea lights on hand at all times.
Wish Bracelet
One of our all-time favorite items – the wish bracelet is a beautiful way to make a wish and wear your love of books. Our gift to you as we celebrate our 2nd anniversary.
Such a thoughtful gift for Sweet Reads Box subscribers and such a darling little bracelet. I've received a wish bracelet before but the book charm makes this one unique.
Pocket Mirror
A cigarette case plays a prominent role in the story and we wanted something that could represent this. Also with Lady Holt's obsession with her looks, a pocket mirror made sense as something that she would always have close by.
A pocket mirror really does fit the book perfectly. I picture Lady Holt having an antique pocket mirror in her purse.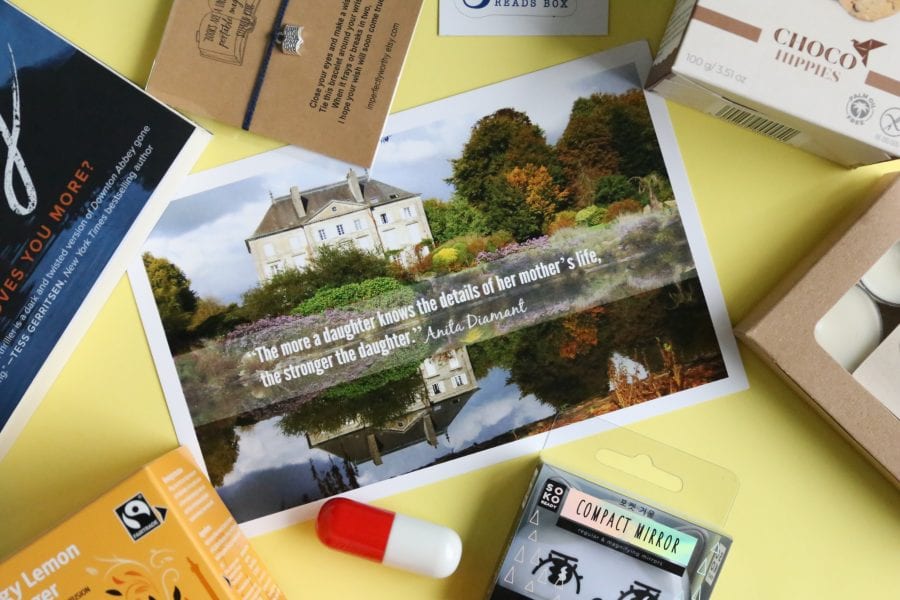 Sweet Reads Box Review October 2019 – Final Thoughts
The October Sweet Reads Box was a total hit! They chose the perfect book for the month of October and they curated the items perfectly. As per usual we received a beverage and a sweet snack. This is one of the reasons I love Sweet Reads Box so much. There's nothing better than a good book, a warm cup of tea and a sweet treat. I also love that we received a candle holder and tea lights this month as it's the perfect way to set the tone for an evening reading session (or early morning in my case). I'm actually a little sad that I already finished the book and that the unboxing experience is over……I loved it that much. As a final thought I would have to say this – if you are looking for a good October read I would highly recommend The Nanny and if you are looking for a great book subscription box I would highly recommend Sweet Reads Box!
-AYOB