Sweet Reads Box Review November 2019
No matter what life stage you are at time for yourself seems to get lost in the everyday. Sweet Reads Box is your chance to sit down, relax and enjoy a great read, a decadent sweet and a carefully curated item that ties to your novel. They kindly sent us this box for review.
I don't know about you, but Winter is my favorite time for book subscription boxes. There's just something so relaxing about spending a quiet morning curled up in front of the fireplace with a new book and a big ol' cup of tea. I like to get up early and read in my favorite chair while it's still dark outside. So…..do yourself a favour and subscribe to a box like Sweet Reads Box. It's the perfect excuse to schedule some "me time" during the crazy holiday season.
Subscription Details
When you sign up for a Sweet Reads Box subscription you can choose a one month, three month or six month commitment.
What You Get: Each Sweet Reads Box includes the following….
Bestselling fiction novel – Your book will be chosen from one of the top bestseller lists.
Beautifully crafted items – Carefully selected to be the perfect match that connect to the novel in some way.
Artisan drinks – A delicious selection to set the mood and enhance your reading pleasure.
Gourmet goodies – A sweet treat to enjoy while reading and relaxing.
Here's a peek at the items we received in the November Sweet Reads Box…..
Rain Watcher
Our November choice is a beautiful novel about Paris, family, photography and trees. We know you will be captivated by the Malegarde family and their chance to come together to celebrate Paul's 70th Birthday. From the birthday dinner you will be taken on a journey as the family rallies together during a natural disaster and discovers the secret they have been grappling with. The Rain Watcher is a great story of love, family, redemption and facing challenges in difficult times. Cozy up this November for a rainy day read.
Nutty Thins
Round wafers of nuts and chocolate. Simply delicious sweet treats we know you'll love.
Truth be told…..I wanted to eat these the moment I opened the box. But no……I gathered up all my willpower and decided to save them for an evening reading session. They will go perfectly with the next item……
Sweet Nothings Caramel Black Tea
A delicious sweet tea – perfect for enjoying on a cool rainy November day. Let it transport you to the cafe's of Paris and the setting for this novel.
I LOVE that Sweet Reads Box includes tea mostly every month. It complements the book perfectly and pairs with the Nutty Thins nicely. It will make for a great evening…..or as they suggested….rainy afternoon.
Handcrafted Bath Bombs
Your box contains two scents of these amazing bath bombs made in Manitoba. Soak in these natural products for the ideal way to find some me time.
Birthday Bath Bombs!! What a great idea seeing as the book is centered around a birthday party. I can't wait to use both of these. They are definitely some of the best bath bombs I have ever received in a subscription box.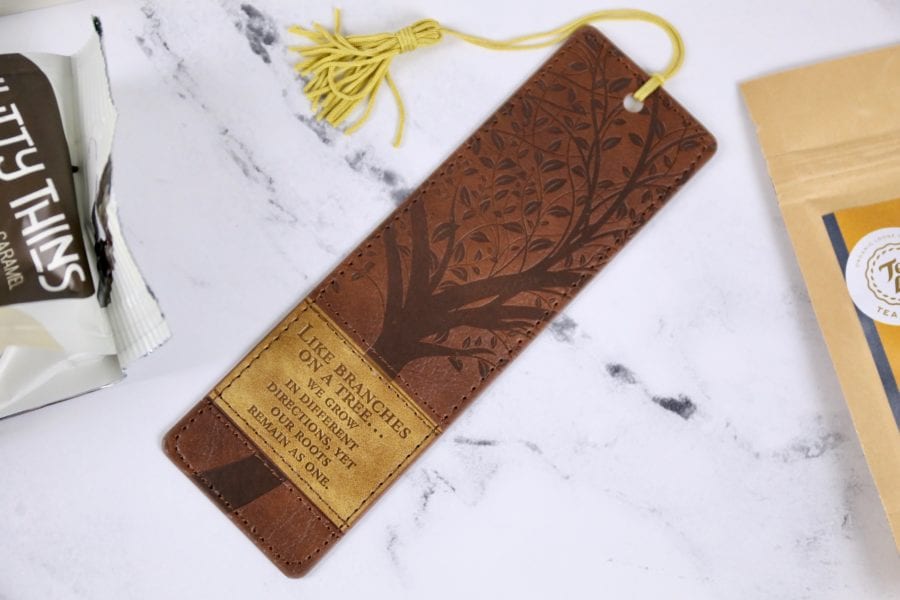 Tree of Life Bookmark
The Malegarde family has been centered around trees and patriarch Paul has devoted his life to their protection. A beautiful way to celebrate their impact and the metaphor trees are in our lives.
This bookmark is absolutely beautiful. It represents the main focus of the book – family. And on top of that….I am always happy to receive a new bookmark because I lose them as often as I lose my hair ties.
Learning to Dance in the Rain Magnet
A magnet that ties to the theme of the novel and the complexities of life and family.
Notebook
One of two designs that remind us of the streets of Paris. Whether it's a French Bulldog or People we hope you'll jot down your ideas and maybe even plan your own thoughts, ideas, for photography, writing or maybe a trip to Paris.
I LOVE it when Sweet Reads Box includes a notebook to go along with the book. I'm a bit of a notebook junkie and can never have too many.
Sweet Reads Box Review November 2019 – Final Thoughts
The November Sweet Reads Box is the perfect combo of bookish goodies – snack, tea, bath bombs, bookmark and notebook. All of my favorite things packaged up in one lovely little box…..to go along with my new book. I wasn't drawn to Rain Watcher immediately but I've come to trust Sweet Reads Box and their book choices. You can tell that a lot of thought and consideration goes in to each book choice so I'm absolutely open to the idea of reading a book from their list of must-reads. Another great box from Sweet Reads Box…..but I've come to expect nothing less.
-AYOB