Sweet Reads Box Review: Limited Edition Christmas Box 2019
Happy New Year, everybody! I'm still in holiday mode until the kids go back to school next week so I'm giving myself some grace and sharing the first of a couple more December boxes today. I would have loved to have them up for you before Christmas but we were so busy getting ready for company and the big man in red that there was just no way. But good things come to those that wait. And this limited edition Christmas Box from Sweet Reads Box is very, very good. Like their monthly subscription boxes it's "me time delivered" with a novel and something to eat and drink and a few bookish goods tied to the story, only this one has a Christmas theme.
*They kindly sent us this box for review
This year Sweet Reads Box had Christmas boxes for the littles too: one for ages 3 to 7 and another (which I bought for my kids) for ages 8 to 12. I'll have to share ours with you in another post. It was really well done and deserves more than a mention here.
I like to be surprised when I open the box so I read the guide to the contents last (it's on the reverse of the larger card).
25 Days 'Til Christmas by Poppy Alexander
I was thrilled to see this book in the box. 25 Days 'Til Christmas by Poppy Alexander has been on my wish list for ages!! Here's the description from the back of the book:
"Kate Potter used to love Christmas. A few years ago, she would have been wrapping her presents in September and baking mince pies on Halloween, counting down the days and hours to Christmas. But that was before Kate's husband left for the army and never came home. Now she can hardly stand December at all.
Kate can't deny she's lonely, yet she doesn't think she's ready for romance. She knows that her son, Jack, needs a Christmas to remember—just like Kate needs a miracle to help her finally move forward with her life. So she's decided if there isn't a miracle on its way, she'll just have to make her own.
As Kate's advent countdown to the best Christmas ever begins, she soon realizes that even with the best laid plans, you can't plan for the unexpected. For when the path of the loneliest woman in town crosses with that of the loneliest man, these two destined hearts might find a way to save the holiday for both of them."
Doesn't it sound like the perfect story to curl up with by the tree? I almost bought it for myself a couple of times but I was hoping I'd get it for Christmas and here it is! Now I need to decide if I want to read it before the holidays are through or save it for next year. Have you read this one?
Making Spirits Bright Diner Mug (Now Designs)
"Perfectly shaped to hold a warm mug of tea. Making Spirits Bright with every sip!"
There were a couple of different mug designs you could get in the Christmas Box and I'm really glad I got this one. The tree detail inside the mug is super cute and it's a good sized cup. (I like mine on the larger side.)
Merry & Bright Green Tea (Tealish)
"The perfect cup of tea for the holidays. A delicious tea bursting with holiday flavours of pomegranate, cranberry and mint."
Green tea is supposed to be really good for you so I wish I liked it more. I love pomegranate and cranberry so I thought this one might be an exception but no, just not my jam. Have you tried it? My husband likes it so it'll get used up.
Dark Chocolate + Goldenberries (Me to We Chocolate)
"A sweet that gives back. Each bar is made in Ecuador, fair trade, vegan and supports education in Ecuador."
My daughter and I were really bummed when the Me to We store near us closed last year but both of us light up whenever we see their chocolate bars and Rafiki bracelets here and there. (They also have a great online shop with all kinds of products I'd love to see in future boxes.) My husband is the dark chocolate fan in our house so I'm saving this bar for him.
Holiday Socks (Sock it to Me)
"Keep your feet warm this holiday with one of two designs. Fun and festive."
Gingerbread cookies are my favourite to bake and decorate for the holidays so these socks are perfect.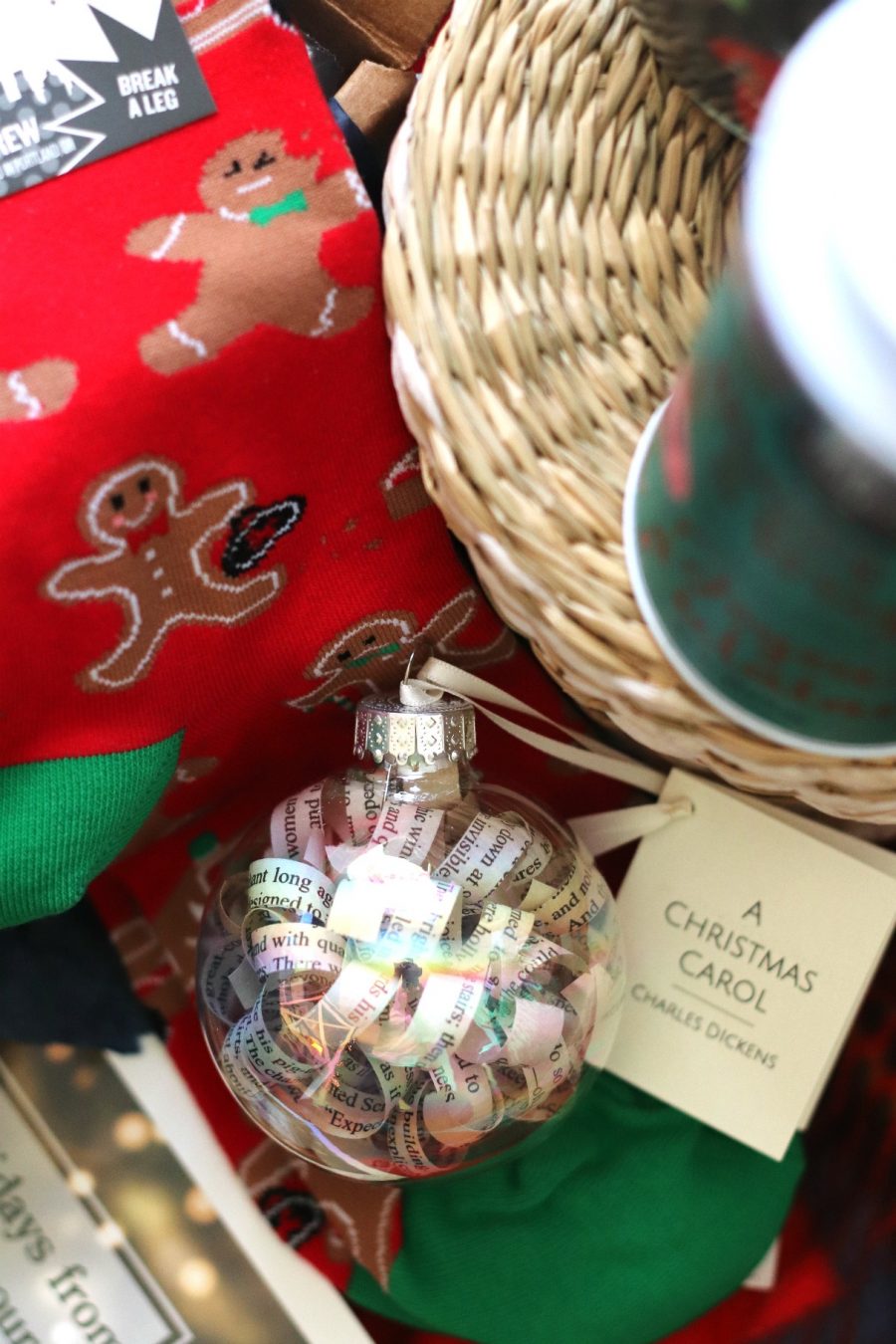 Handmade Tree Ornament (Novel Adornment)
"We had these beautiful tree ornaments made as a special, unique gift to celebrate your love of reading. Created with vintage book pages from salvaged vintage novels of "A Christmas Carol."
And this ornament is so beautiful! What a clever way to repurpose vintage books and honour a classic Christmas story.
Holiday Dishtowel (Now Designs)
"With so much of the holiday season set around the kitchen this beautiful dishtowel will bring a bit of cheer and inspire some holiday baking."
Okay nobody is allowed to use this tea towel, ha ha. It's so pretty I'm saving it for display only!
I don't know about you, but I find the holidays fly by way too fast. I'm not ready to put everything away for another year! Esp. with this Sweet Reads Box packed with so much Christmas cheer. There are still a few available for purchase if you'd like to gift one to yourself or a friend or sock it away for next year. (At the time I'm writing they're on sale for $49.99 + shipping but that may not be the case when you're reading this.)
Sweet Reads Boxes are available as single, commitment-free boxes and by subscription. Boxes currently ship Canada-wide.
Single box: $61.99 + shipping
Three-month subscription: $230.07 including shipping
Six-month subscription: $443.94 including shipping
12-month subscription: $863.88 including shipping
And you can save 10% on three- and six-month subscriptions when you sign up for the Sweet Reads Box mailing list. They also share bookish news, discounts and info on upcoming boxes on Instagram, Facebook and Twitter.
What do you think of the Sweet Reads Box Christmas Box? Are there any themes, books or products you'd like to see in a limited edition or monthly box?
Try Small Things – https://trysmallthings.com