Sweet Reads Box Limited Edition Spring Thriller Box March 2020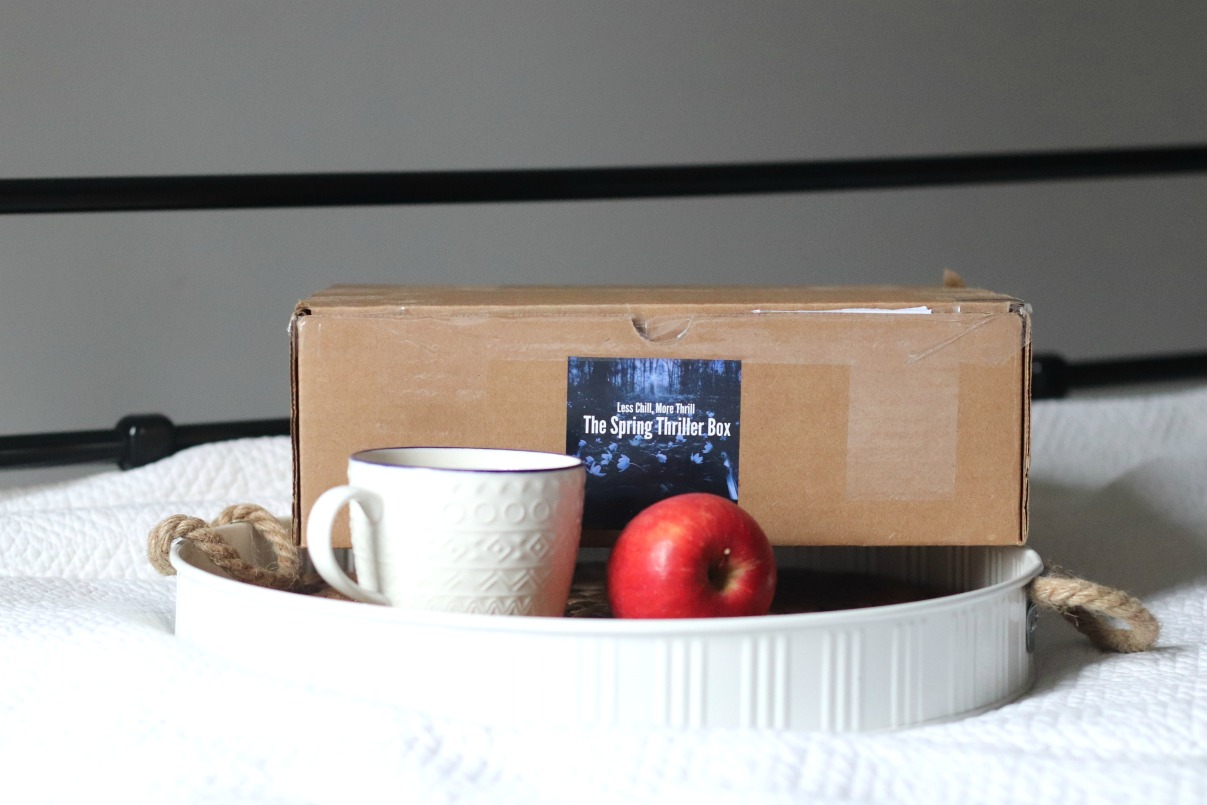 "It's as much fun to scare as be scared." — Vincent Price
The snow on our back deck disappeared in the rain this week but there's still a chill in the air. I'm wearing my cozy cat slippers, sipping a mug of hot soup and tempted to get a blanket but that might put me to sleep. Thank you for taking a few minutes to join me. I hope this finds you cozy wherever you are. As promised, today's post is a look at the latest limited edition from Sweet Reads Box, the Spring Thriller Box. Like the monthly boxes, this one offered a new novel, something to eat and drink and some bookish treats tied to the story — in this case a thriller, perfect for a chilly day.
*They kindly sent us this box for review
I don't know about you, but that quote on the product card gives me the chills. The other side has a list of all the things in the box and some notes on each.
The Hunting Party by Lucy Foley
And the novel: a release from February this year, The Hunting Party by Lucy Foley. I've seen it but haven't read it. Can't wait to dive into it!
Here's the description from the publisher. (It totally gave me the chills.)
"During the languid days of the Christmas break, a group of thirtysomething friends from Oxford meet to welcome in the New Year together, a tradition they began as students ten years ago. For this vacation, they've chosen an idyllic and isolated estate in the Scottish Highlands—the perfect place to get away and unwind by themselves.
The trip began innocently enough: admiring the stunning if foreboding scenery, champagne in front of a crackling fire, and reminiscences about the past. But after a decade, the weight of secret resentments has grown too heavy for the group's tenuous nostalgia to bear. Amid the boisterous revelry of New Year's Eve, the cord holding them together snaps.
Now, on New Year's Day, one of them is dead . . . and another of them did it.
DON'T BE LEFT OUT. JOIN THE PARTY NOW."
Sounds so good!!
Cinnamon Toast Popcorn (Toronto Popcorn Co.)
"Perfect for snacking and reading. This popcorn brings a little sweet to your reading experience."
I opened the popcorn to try it and artfully sprinkle a few kernels around and ended up eating half the bag by the time I'd finished shooting. (Oops!) Suffice it to say, it's delicious. Eating crunchy things is supposed to help relieve stress, making it the perfect treat to have with a thriller.
Diamond Mug (Danica Studio)
"A stylish mug with a trendy colour palette. Perfect for drinking coffee at a Scottish estate."
Sweet Reads Box has great taste in mugs! I love this one, and it goes so well with the one I happened to be using when I was shooting this post (also from a Sweet Reads Box, January 2020.)
Dark Roast Coffee (Kyoto Coffee)
"What would a Thriller novel be without a dark brew? Perfect for drinking during scary late night reads."
I don't drink coffee but my hubby loves an espresso so he'll enjoy this dark blend.
Sorry, Not Sorry (Socksmith)
"While we hope you will not be using this expression for murder, we felt it was the perfect sentiment for whatever bad choices you are making."
Oh man I should be wearing these socks every day for the number of bad choices I've been making, ha ha. Mostly involving too many muffins. 2020 is the year of the carb.
Reading Notes (Sweet Reads Box)
"We created this custom notebook for all of your reading notes. Whether it is your TBR list, your favourite quotes or your reading list we hope you love this handy notebook."
Sweet Reads Box Pen (Sweet Reads Box)
"Pairs well with your notebook."
Thriller Book Sticker (Red Bubble)
"A fun vinyl sticker to adorn your laptop or book cart. Drawn by an independent artist to capture the love of Thriller novels."
Even though I have a healthy notebook collection I'm forever jotting things down on random sheets of paper. Not the most organized, I know. Now I have one to keep all of my reading notes in one place. Must keep it handy and use it! My daughter will likely use the pen (I have one particular kind of pen I like and tend to use those exclusively) and my son can have the sticker. (I don't know where I'd put it but he likes it.)
Love Potion Ring Bath Bomb (Pearl Bath Bombs)
"A fantastic bath bomb + a stylish ring? Sign us up! We love the dark and mysterious colour of this one. We love this element of magic in your bathtub — perfect for Me Time."
My friend Dana (aka @danish_mustardreads on Instagram) shared her bath bomb in her stories and it gave her a lovely dark purple soak and a plastic capsule with a large sparkly ring inside. This one is scented with lavender and amber and made with epsom salt and essential oils. I'm going to use mine tonight!
Sweet Reads Box consistently sells out and limited edition boxes even faster so the Spring Thriller Box and the next one (April's Book Lovers Box) have all been snapped up. That said, I wouldn't be surprised if a limited edition box was released for May. As I'm writing this there are still a few of the monthly May boxes for sale and subscriptions are always available. (If you subscribe now you'll receive your first Sweet Reads Box in May).
Single box: $65.99 + shipping (limited edition boxes are around the same price)
Three-month subscription: $230.07 including shipping
Six-month subscription: $443.94 including shipping
12-month subscription: $863.88 including shipping
And you can save 10% on three- and six-month subscriptions when you sign up for the Sweet Reads Box mailing list. The co also shares bookish news, discounts and info on upcoming boxes on Instagram, Facebook and Twitter.
What do you think of the Spring Sweet Reads Box Thriller Box? Do you know a Thriller fan who'd like one?
Try Small Things – https://trysmallthings.com