Sweet Reads Box Review: Limited Edition Beach Read Box 2020
"With the right book, the beach is just a few pages away."
My idea of a great beach day involves stretching out on a comfy lounger in the shade of a palapa with a book in one hand and a cold drink in the other. I've had some of those days, right? It's been so many years that I feel like I might have imagined them. Needless to say (which always feels weird to say because if it's needless, why say it?) this was not one of them. It was about a zillion degrees on a weekday and my hubby had to do an errand near the beach so he dropped me off with a mask and hand sanitizer and picked me up an hour later after I'd snapped a million pictures on my socially distant patch of sand. There were no loungers, no palapas and no cold drinks, but there was a great book (or a great-sounding book anyway) and a carefully curated box of treats perfect for the beach or playing beach at home. I'm talking about the Limited Edition Beach Read Box from Sweet Reads Box, and I've got all of the details for you here.*
* They kindly sent us this box for review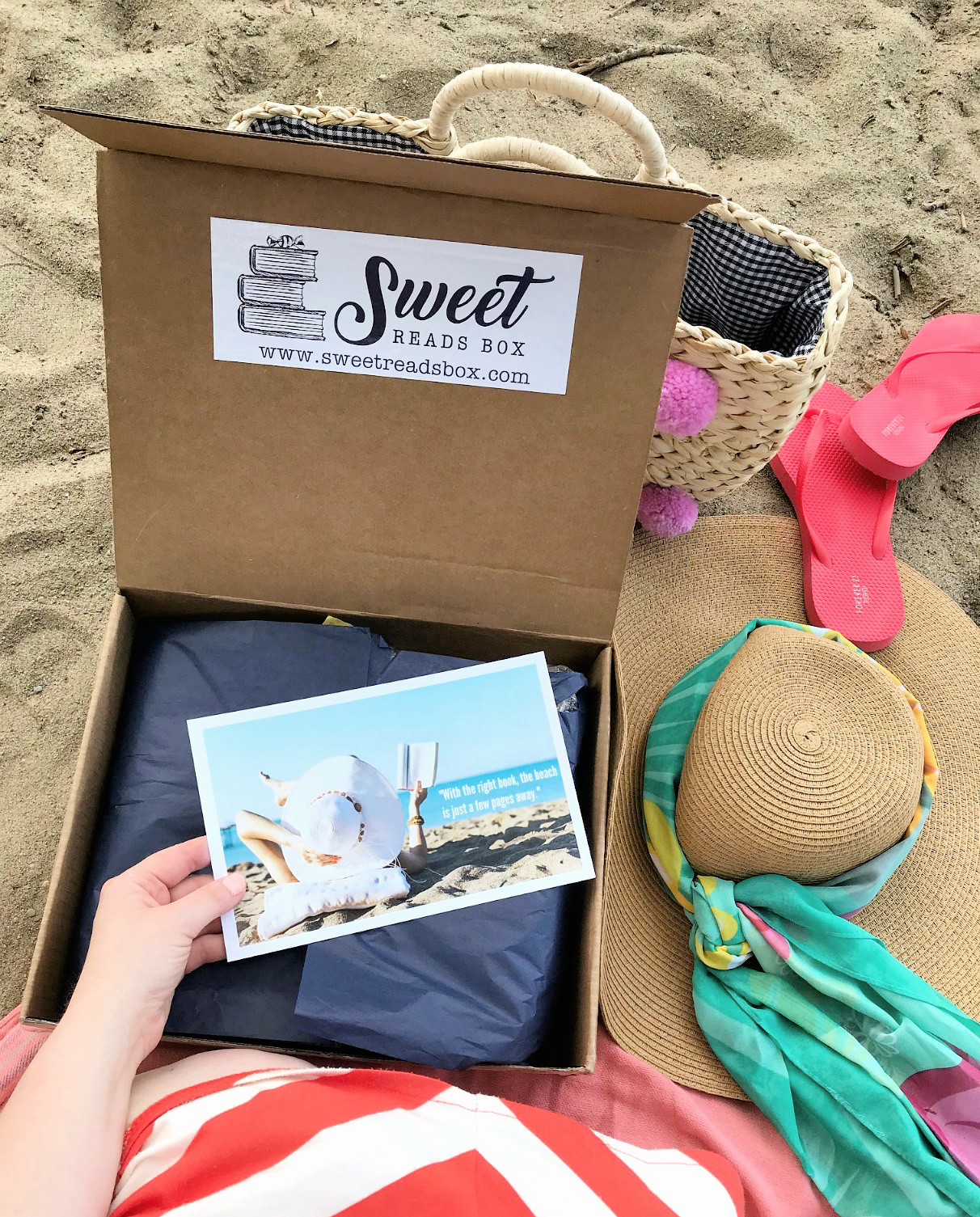 Like the monthly ones, each limited edition Sweet Reads Box includes a new novel, something to eat and drink and a few bookish goodies tied to the story or the theme. Each box includes a product card with a description of the contents and how they relate to the novel on one side, and a fitting quote or phrase on the other. I like to be surprised, so I alway set the card aside to read after I've unpacked everything. (If you've been following along, you might recognize the scarf around my hat from the June box.)
(doing my best Chandler Bing impression) Could there BE a more perfect book for a Beach Read box? And it's only one of the most anticipated reads of the summer. Here's the publisher's description for Beach Read by Emily Henry:
A romance writer who no longer believes in love and a literary writer stuck in a rut engage in a summer-long challenge that may just upend everything they believe about happily ever afters.
Augustus Everett is an acclaimed author of literary fiction. January Andrews writes bestselling romance. When she pens a happily ever after, he kills off his entire cast.
They're polar opposites.
In fact, the only thing they have in common is that for the next three months, they're living in neighboring beach houses, broke, and bogged down with writer's block.
Until, one hazy evening, one thing leads to another and they strike a deal designed to force them out of their creative ruts: Augustus will spend the summer writing something happy, and January will pen the next Great American Novel. She'll take him on field trips worthy of any rom-com montage, and he'll take her to interview surviving members of a backwoods death cult (obviously). Everyone will finish a book and no one will fall in love.
Really.
I love books about writers and rom-coms and this one sounds like a trip. And it's rated 4.5/5 stars on Goodreads!! That's some high praise.
(What does a writer put on at the beach? Writer's block.)
Beach Dishtowel (Danica Studio)
"Bring the beach inside with this beach dishtowel."
Frosé (Gourmet du Village)
"Whether you prefer it mixed with ice (non-alcoholic) or Rosé (alcoholic) this blended drink is a refreshing strawberry treat."
We have so many dishtowels that have seen better days and this one puts them to shame. Love the design and the playful fringe! I'm going to put this one into rotation right away! And the Frosé mix is such great idea and perfect for hot summer days and evenings. Have you tried Frosé?
Tropical Gummies (SugarSin)
"Delicious gummies bursting with pineapple, kiwi, mango and passion fruit. Easy to nibble on while reading or packed in your beach bag for a warm weather sweet."
This is a generous-sized bag so I won't mind sharing. Just as long as you leave me the pineapple, kiwi and mango ha ha. Those are my favourites.
Sustain Glass Water Bottle (Danica Studio)
Now this bottle isn't on the product card but wow! It's beautiful! And you can never have too many.
I love the glass, the design and the generous size.
Butterfly Napkins (Native Northwest)
"Napkins that remind you of a butterfly dancing among the flowers are the perfect compliment to summertime picnics."
Super cute and summery.
Beach Socks (Little Blue House by Hatley)
"Fun ankle socks with a beach theme will bring summertime to your toes even in the cooler rainy days."
I gave these to my mom because they're right up her alley. She loves the fun pattern and they're a perfect match for the pink sneakers she wears on her daily walks.
Beach Babe Lip Balm (Walton Wood)
"Keep your lips soft this summer with this natural lip balm from our friends at Walton Wood."
I mentioned I love pineapple, right? This lip balm is the bomb!
Zipper bags — two sizes (Kikkerland)
"Perfect for snacks on the go, these zipper bags replace your other snack bags. Great for a picnic, road trip or day at the beach — just grab, fill and go."
File under Things That Make Me Smile. These snack bags are sturdy and I love LOVE how they look like mason jars. Feels like they've got a good seal on them too. Great idea! We'll get tonnes of use out of these.
Bookplate Signed by the Author
"A special gift from Beach Read author Emily Henry."
And for a personal touch, a sticker bookplate signed by the author. Also file under Things That Make Me Smile.
And that's the Limited Edition Beach Read Box from Sweet Reads Box!
The Beach Read Box is sold out, but you can still get your paws on the next limited editions — one for cat lovers and one for dog lovers. Limited Edition boxes are $100 each including Canada-wide shipping. Sweet Reads Box has also introduced four boxes for kids ranging from ages 3 to 17. Those are $55 each, shipping included.
Regular monthly Sweet Reads Boxes:
Single Sweet Reads Box: $65.99 + shipping
Three-month subscription: $230.07 including shipping
Six-month subscription: $443.94 including shipping
12-month subscription: $863.88 including shipping
And you can save 10% on three- and six-month subscriptions when you sign up for the Sweet Reads Box mailing list. The co also shares bookish news, discounts and info on upcoming boxes on Instagram, Facebook and Twitter.
What do you think of the Limited Edition Beach Read Box? What other limited edition boxes would you like to see?
Try Small Things – https://trysmallthings.com