Sweet Reads Box Review September 2020
"One's destination is never a place, but a new way of seeing things." — Henry Miller
We've got a long weekend here in Canada and I'm looking forward to enjoying some "me time" with a cozy blanket and my Sweet Reads Box. The monthly Canadian book box that delivers a new novel, coffee or tea, a treat to eat, and some bookish items tied to the story. I've been reading September's book and it's SO GOOD. Let's get to the reveal!*
*They kindly sent us this box for review
September's Sweet Reads Box selection is Indians on Vacation by Thomas King. King is a multi-award-winning novelist, short story writer, scriptwriter, photographer and Member of the Order of Canada. I'd heard of a few of his works (including this one) but hadn't read any. Here's the description from the publisher:
"Meet Bird and Mimi in this brilliant new novel from one of Canada's foremost authors. Inspired by a handful of old postcards sent by Uncle Leroy nearly a hundred years earlier, Bird and Mimi attempt to trace Mimi's long-lost uncle and the family medicine bundle he took with him to Europe.
"I'm sweaty and sticky. My ears are still popping from the descent into Vaclav Havel. My sinuses ache. My stomach is upset. My mouth is a sewer. I roll over and bury my face in a pillow. Mimi snuggles down beside me with no regard for my distress.
'My god,' she whispers, 'can it get any better?'"
By turns witty, sly and poignant, this is the unforgettable tale of one couple's holiday trip to Europe, where their wanderings through its famous capitals reveal a complicated history, both personal and political."
I've put down the book to write this post and I can't wait to get back to it. It's eye-opening, relatable, funny and heart-breaking all at the same time. Sweet Reads Box picked a great one! Not only that, all of the items they paired with the novel are from indigenous-owned businesses here in Canada with one delicious exception…
European cookies (Verdujin's Cookies, assorted flavours)
"While we could not bring you sweet treats from Prague these cookies remind us of our favourite European biscuit."
Delicate and crisp, these dainty cookies have a delicious cranberry flavour and a satisfying crunch. Love to see these again in a future box!
Birch Bark Coffee (Coureurs Des Bois)
"A rich and delicious medium roast coffee honouring the Metis and their role in travel, wood-running and exploring our vast waterways."
I don't drink coffee but I love the smell and look forward to giant whiffs of my hubby's first cup.
Maple Syrup (Wabanaki)
"A rich, smooth barrel-aged maple syrup from New Brunswick. Maple Syrup was one of the first gifts given to visitors to Canada. We know you will love this syrup curated in a unique way."
Monday's holiday means more time for breakfast so maybe we'll make pancakes to pair with the maple syrup. Something tells me this will be infinitely more delicious than the cheap store brand stuff we usually buy.
Dream Catcher (Tribal Trade)
"Purchased from our friends in Curve Lake you will find a card and a link to a description of how to use and where to hang your Dream Catcher. May its web keep away harmful thoughts and dreams."
My daughter has a Dream Catcher over her bed and I think her little brother in the bunk below needs one too. Love this inclusion.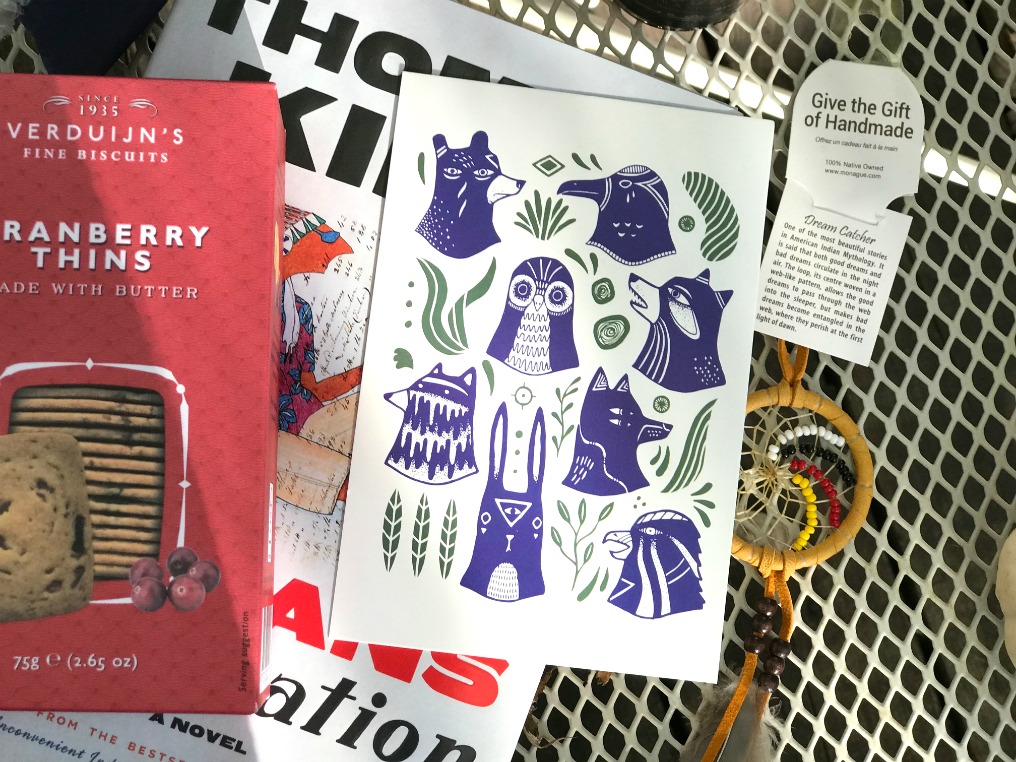 Postcard (Native Northwest)
"While Uncle Leroy's postcards did not lead Mimi and Bird on a straight path, we hope you will take a moment to send this postcard to someone you love."
Part of me wants to send this postcard and another part of me wants to frame it. Which part will win? Really love the design!
Maple Dish (Native Northwest)
"For every Canadian who sewed a maple leaf on their backpack or proudly wore a Canadian item of clothing, this maple dish reminds of what it means to be a Canadian travelling abroad. Store your favourite small items in this beautiful maple dish."
I have a small handmade rope bowl on my dresser that holds a few rings and earrings and this dish will be perfect beside it to sort the two out. Another gorgeous design!
September's Sweet Reads Box also included a paper coaster from publisher HarperCollins that looks like the beach ball on the cover of the book. We don't have any surfaces precious enough to protect with coasters (or maybe we're just too lazy to use them) but it makes a great bookmark.
September's Sweet Reads Box was so well done! I love how everything ties together and seeing so many products from indigenous-owned businesses. The book's introduced me to an author I should have started reading years ago and will definitely seek out in the future.
November's Sweet Reads Box is currently on sale but they go really quickly so if you're interested I strongly encouraging ordering straight away, whether it's a one-time purchase or a subscription. Limited edition boxes are also available from time to time so keep an eye out for those. Halloween and Christmas boxes are already sold out.
Sweet Reads Box ships Canada-wide and shipping is included.
Single Sweet Reads Box: $80
Three-month subscription: $230.97
Six-month subscription: $443.94
12-month subscription: $863.88
And you can save 10% on three- and six-month subscriptions when you sign up for the Sweet Reads Box mailing list. The co. also shares bookish news, discounts and info on upcoming boxes on Instagram, Facebook and Twitter.
Have you tried Sweet Reads Box?
Try Small Things – https://trysmallthings.com