Sweet Reads Box Review: Limited Edition Book Lover's Box Fall 2020
I feel like Sweet Reads Box has offered more limited edition releases this year than ever and I am here for it! If you miss out on the monthly boxes (they sell out so quickly!) or you're on the fence about subscribing, the limited editions are another chance to get a feel for the box or add to your monthly delivery. (In this case, more is MORE!) Like the monthly boxes, each limited edition includes a new novel (with the exception of The Cook's Box, which has one of two cookbooks), something to eat and drink and a few items cleverly tied to the theme. Every Sweet Reads Box is a book lover's box IMHO but this one especially so in that it celebrates everything bookish. Here's a look inside.*
*They kindly sent us this box for review
The product card has a quote related to the theme on one side and a description of the contents on the other (which I'll share here with each item).
"She reads books as one would breathe air, to fill up and live," is a quote from American author, Annie Dillard. 
Chasing Painted Horses by Drew Hayden Taylor
And the novel: Chasing Painted Horses by Drew Hayden Taylor. This is the first time I've seen it but I'm intrigued.
"Chasing Painted Horses is a special novel told from a child's point of view. While the life of this child is difficult, she finds ways to cope and escape from her reality to a safe place. The story and Danielle's art will leave you thinking long after you have finished reading. A beautifully written novel perfect for readers who love a compelling story." — Sweet Reads Box
And here's the synopsis from the publisher, Cormorant Press:
"When Ralph Thomas comes across graffiti of a horse in an alleyway in the early hours of the morning, he is stopped in his tracks. He recognizes this horse. A half-asleep Indigenous homeless man sees Ralph's reaction to the horse and calls out to him. Over the course of a morning's worth of hot coffee on a bitterly cold day, Ralph and the homeless man talk and Ralph remembers a troubling moment from his childhood when an odd little girl, Danielle, drew the most beautiful and intriguing horse on his mother's Everything Wall, winning the competition set up for children on the Otter Lake Reserve.
Ralph has lived with many questions that arose from his eleventh winter. What did the horse mean — to him, his sister, his best friend, and, most importantly, the girl who drew it? These questions have never left him.
Chasing Painted Horses has a magical, fable-like quality that will enchant readers, and haunt them, for years to come."
Like a lot of people I'm trying to diversify my reading to include more BIPOC authors so I'm so glad Sweet Reads Box introduced me to this one. (You can read more about Drew Hayden Taylor here.) And Chasing Painted Horses is from a Canadian press! Sweet Reads Box makes a concerted effort to support Canadian businesses and often includes a number of Canadian-made products in its boxes. I believe the boxes, labels and product cards are Canadian-made as well.
Bibliophile Readers Journal (Jane Mount)
"The most beautiful reader's journal — a great place to keep track of your reading." 
The journal allows one page per book with space to record plot points, character notes, favourite quotes and other books by the same author that you want to read. I think it'll be really helpful for writing reviews and just keeping track of my reading in general. The book is a companion to Bibliophile: An Illustrated Miscellany (also by Jane Mount), as well as a collection of cards and envelopes.
Pumpkin Chai Tea (Tealish) — Canadian company
"Is Fall really Fall without something pumpkin? Tealish's Pumpkin Chai is a delicious blend that brings the best of Fall to your cup."
I love pumpkin (and tea!) but not chai so this is a miss for me. But my hubby will appreciate it.
Chocolate Bars (Baru)
"A perfectly decadent reading sweet treat."
Mine are Milk Chocolate Marshmallow Crunchy Cashew and Dark Chocolate Marshmallow Sea Salt Caramel and they both sound delicious! Sadly my teen has the family on a challenge to go 10 days without sweets so I've had to wait to try them. (Just three more days to go!)
Introvert Bookmark (Peter Pauper Press)
"A Fun way to lighten up your books."
If you can't read it, it says "Books. Helping Introverts Avoid Conversation Since 1454." LOL
So Many Books So Little Time Notepad (Little Blue House) — Canadian Company
This is really cute — and true! — and I can always use a notepad.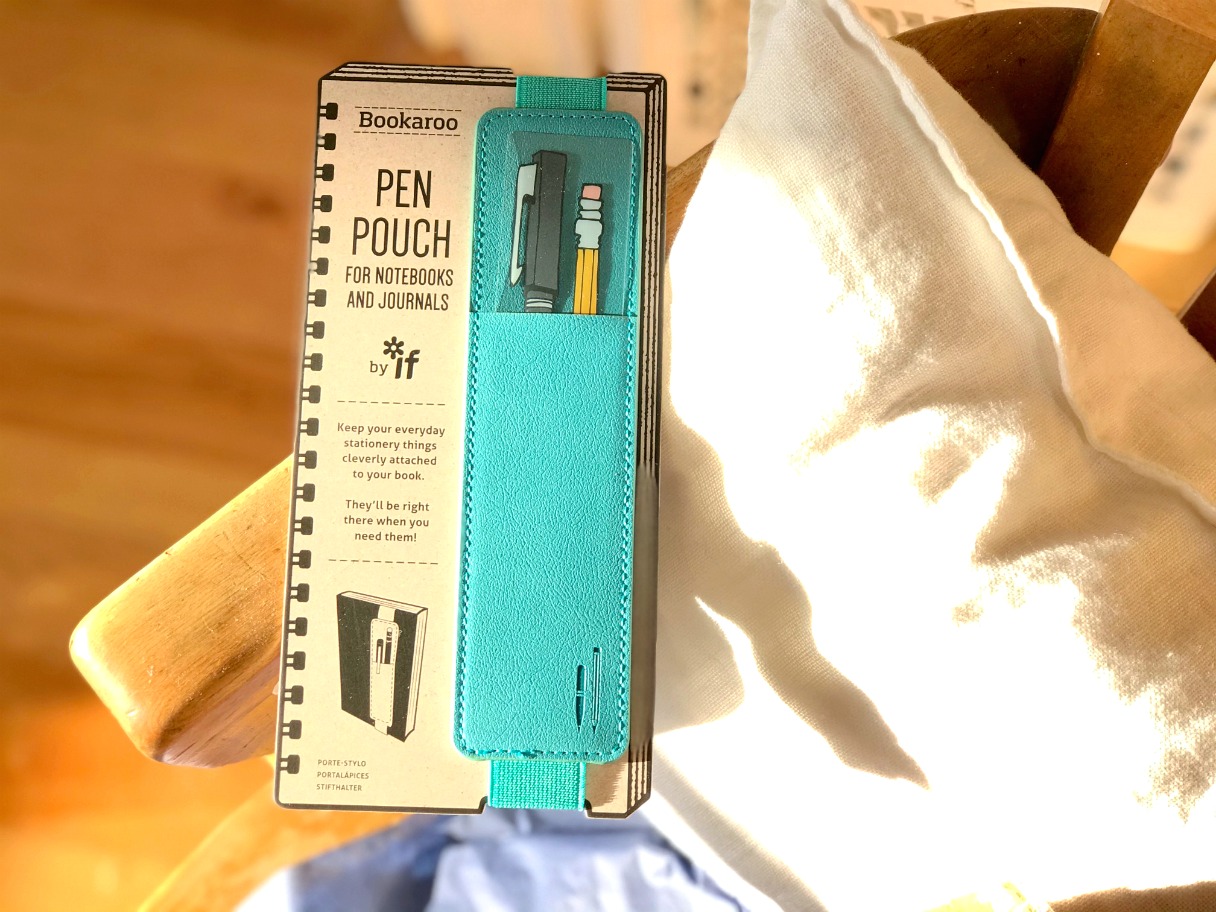 Notebook Pen Pouch (Bookaroo)
"Whether you are adding a pen to your Reader's Journal or another book this pouch ensures you always have a pen handy."
My favourite bookish item in the box! I love that I won't have to search for a pen every time I want to write in my Bibliophile journal. Very useful. I don't know how I don't have one of these already.
Love Stories Socks (Socksmith) — Canadian Company
"Cozy and comfortable socks, perfect for snuggling up with a great book."
These socks are perfect for this box and for my mom, a voracious reader who enjoys patterned socks more than me. I'll be including these in her Christmas parcel.
Three Button Pack (Gibbs Smith)
"Show off your book-loving pride with these great buttons."
I know a few readers who'd love these so they'll find a good home. (I'm trying to reign in my collection.)
And there you have the Sweet Reads Box Book Lover's Box! These ones are sold out but I believe a few December boxes are still available. You can also order The Cook's Box, a special limited edition box with a choice of two cookbooks — Anna Olson's Baking Day and Ottolenghi Flavor (plant-based weeknight cooking). That one ships later this month/early December.
Sweet Reads Box ships Canada-wide and shipping is included.
Single Monthly Sweet Reads Box: $80
Three-month subscription: $230.97
Six-month subscription: $443.94
12-month subscription: $863.88
And you can save 10% on three- and six-month subscriptions when you sign up for the Sweet Reads Box mailing list. The co. also shares bookish news, discounts and info on upcoming boxes on Instagram, Facebook and Twitter.
Have you tried Sweet Reads Box? What limited edition boxes would you like to see? Any authors or bookish items in particular?
Try Small Things – https://trysmallthings.com