Sweet Reads Box Review December 2020
Hi everybody! I hope you're enjoying some holidays before the new year begins. I plan to spend the next few days as sedentary as possible, but I thought I'd pop on in between naps and share some December boxes I didn't get to before Christmas. First up: December's Sweet Reads Box. The Canadian book box is "me time delivered" with a new novel, tea or coffee, a decadent treat and some bookish items tied to the story — think cute bookmarks, pretty mugs, handy journals, good-smelling candles and the like. (If the photos look yellow it's not you, it's me: I added a vintage filter to disguise some uneven lighting.) *
* They kindly sent us this box for review.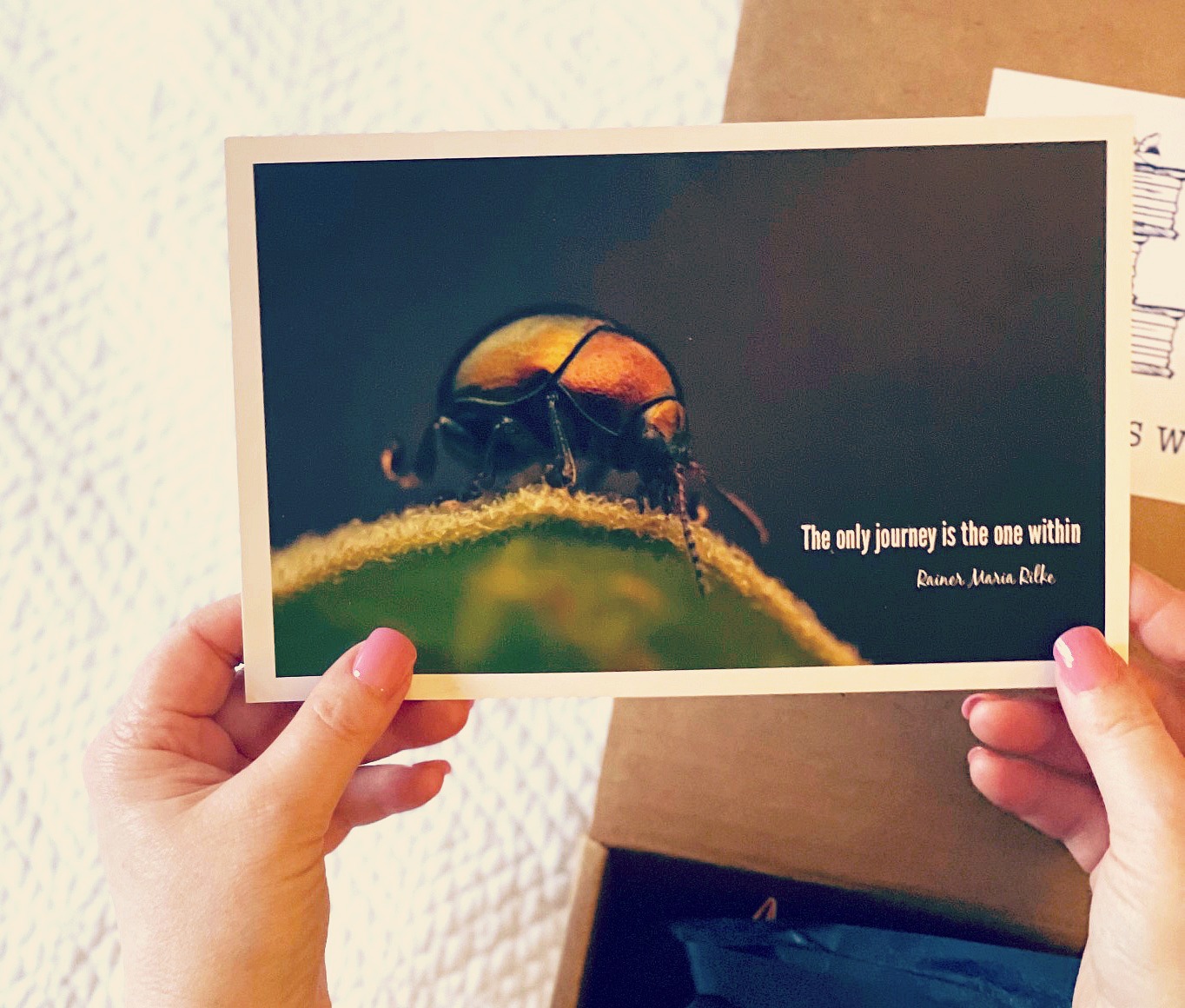 Each Sweet Reads Box includes a product card with a hint about the story or theme of the novel on one side and a description of the contents on the other. (I've included the descriptions in italics below.) December's card features a photo of a beetle with a quote from Bohemian-Austrian poet and novelist, Rainer Maria Rilke: "The only journey is the one within."
Miss Benson's Beetle by Rachel Joyce
December's novel is Miss Benson's Beetle by Rachel Joyce. Here's the description from the publisher:
"From the bestselling author of The Unlikely Pilgrimage of Harold Fry comes an uplifting, irresistible novel about two women on a life-changing adventure, where they must risk everything, break all the rules, and discover their best selves—together.
She's going too far to go it alone.
It is 1950. London is still reeling from World War II, and Margery Benson, a schoolteacher and spinster, is trying to get through life, surviving on scraps. One day, she reaches her breaking point, abandoning her job and small existence to set out on an expedition to the other side of the world in search of her childhood obsession: an insect that may or may not exist—the golden beetle of New Caledonia. When she advertises for an assistant to accompany her, the woman she ends up with is the last person she had in mind. Fun-loving Enid Pretty in her tight-fitting pink suit and pom-pom sandals seems to attract trouble wherever she goes. But together these two British women find themselves drawn into a cross-ocean adventure that exceeds all expectations and delivers something neither of them expected to find: the transformative power of friendship."
I hadn't seen this book before but it sounds so good! It's also the second novel by Rachel Joyce featured in a Sweet Reads Box (The Music Shop was November 2018's pick). December's box also includes a letter from the author where Joyce talks about the nature of friendship and her passion for beetles. I love this special extra!
Maple Peanut Brittle (Sweetsmith)
"A delicious sweet enjoyed around the world. This Canadian Peanut Brittle is the perfect treat to nibble on while reading. **"
I've got a sweet tooth but I also love a crunchy snack so this peanut brittle is the best of both worlds. Love the maple flavour. And the entire package about the same amount of calories as a chocolate bar. (I would've thought much more.)
** indicates a Canadian product
Seasonal Blend Coffee (Propeller Coffee)
"A divine coffee with tasting notes of chocolate, hazelnut and stone fruit. We know if will quickly become your favourite December drink. **"
I don't like the taste of coffee but I love the smell and this one smells heavenly. My hubby will enjoy it.
By the Sea Candles (Allan Wick)
"Made locally, these hand poured soy candles burn beautifully and bring a hint of the sea into your home. Inspired by Margery and Enid's ocean/island adventure. **"
This candle smells great too, and a nice change from the woodsy ones I've been burning lately.
Bamboo Toothbrush (Kikkerland)
"An eco-friendly travel toothbrush designed for on-the-go toothbrushing without the added plastic waste."
I always carry floss in my purse and now I have a handy, environmentally friendly toothbrush too. Not that I'll be on-the-go anytime soon (we're on lockdown here in Ontario) but eventually, right?
To Do Pad (Knock Knock)
"The ultimate organization tool for around the house, planning a trip, at work or setting out on adventure."
Knock Knock makes the best notepads and sticky notes! This one is perfect for capturing all of the end-of-year and new-year to-do's.
Vanilla Coconut Body Lotion (The Perth Soap Co)
"A luxurious body lotion that is pH balanced, fast-absorbing and infused with fragrances that will allow you to escape to the islands. The lotion is paraben free, phthalate free and not tested on animals. **"
I'm taking a giant whiff of this body lotion right now. Ahhhhhhh smells so good. Feels great too.
Sweet Reads Magnetic Bookmark (Crafted Van)
"Made by our friends at Crafted Van these bookmarks are just for our subscribers! **"
This bookmark is the cutest! And an exclusive design, too. Adorable and useful.
Slipper Socks (Pudus Socks)
"Keep your feet warm this winter with the ultimate reading socks. One of Oprah's favourite things and soon to be yours too! **"
Well if Oprah loves them they must be great! These socks are super cozy and I love the sherpa cuffs. Plus they have grippy stuff on the bottom to prevent slipping and sliding.
December's box was such a nice surprise, from the new-to-me novel to all kinds of useful (and mostly Canadian) products I'd never tried. I'm really happy with the scented candle and body lotion and the maple peanut brittle was absolutely delicious. (Of course it's gone before I've even started the book. 😂 It's just too good!) Thank you, Sweet Reads Box!
Single monthly Sweet Reads Box: $80
Three-month subscription: $230.97
Six-month subscription: $443.94
12-month subscription: $863.88
Sweet Reads Box ships Canada-wide and shipping is included.
And you can save 10% on three- and six-month subscriptions when you sign up for the Sweet Reads Box mailing list. The co. also shares bookish news, discounts and info on upcoming boxes on Instagram, Facebook and Twitter.
What do you think of December's Sweet Reads Box? Are you a Rachel Joyce fan? What authors or books would you like to see in future boxes?
Try Small Things – https://trysmallthings.com