Sweet Reads Box Review February 2021
Please forgive me for the late unboxing, everybody! I should have shared February's Sweet Reads Box last week but I've been having a hard time settling in and focusing on anything. I know I'm not alone in that but it's still frustrating. If you're new to Sweet Reads Box, it's a monthly Canadian book box for anyone who loves to curl up with a new novel, coffee or tea, a delicious snack and a few other bookish treats (mugs, journals, bookmarks and other fun surprises). Essentially it's me time delivered (which also happens to be the Sweet Reads Box slogan).*
*They kindly sent us this box for review.
Each Sweet Reads Box includes a spoiler card (or you might call it a product card) with an image and quote related to the month's novel or theme on one side and a description of the contents on other. February's features an inviting image of two open gates leading into a lush green park paired with the Maya Angelou quote, "Freedom is never free."
Gutter Child
In honour of Black History Month, February's Sweet Reads Box features the new novel from Black Canadian author Jael Richardson.
"Set in an imagined world in which the most vulnerable are forced to buy their freedom by working off their debt to society, Gutter Child uncovers a nation divided into the privileged Mainland and the policed Gutter. In this world, Elimina Dubois is one of only 100 babies taken from the Gutter and raised in the land of opportunity as part of a social experiment led by the Mainland government.
But when her Mainland mother dies, Elimina finds herself all alone, a teenager forced into an unfamiliar life of servitude, unsure of who she is and where she belongs. Elimina is sent to an academy with new rules and expectations where she befriends Gutter children who are making their own way through the Gutter System in whatever ways they know how. When Elimina's life takes another unexpected turn, she will discover that what she needs more than anything may not be the freedom she longs for after all.
Richardson's Gutter Child reveals one young woman's journey through a fractured world of heartbreaking disadvantages and shocking injustices. Elimina is a modern heroine in an altered but all too recognizable reality who must find the strength within herself to forge her future and defy a system that tries to shape her destiny."
Anyone I know who's read it has absolutely raved about it so I'm so happy to have a copy.
Asheville Mix (Poppy Hand-Crafted Popcorn)
"A sweet and salty mix of popcorn flavours from North Carolina."
Popcorn is one of my favourite reading snacks and this crunchy mix of salted caramel and white cheddar hit the spot oh em gee! Once again I finished it before I even started the novel. Ooops.
Jasmine Tea (Genuine Tea)
"A hot cup of tea is going to be your best reading companion for this book as you ponder its deep themes. We chose Green Tea to connect to the cover and as a fresh, uplifting tea."
Some subscribers got a Sencha green tea, some got this Jasmine one. Green tea isn't my favourite but I like having it in the house for friends (not that we'll be having friends over any time soon) or I could always gift it to someone who'll enjoy it. Either way, it won't be wasted.
And Still I Rise, Poems by Maya Angelou (Penguin Random House)
"One of the few delights Elimina and her fellow Gutter Children have, is to surreptitiously read poetry to each other. We included one of our favourite collections of poetry because it features Maya Angelou's poem Phenomenal Woman which ties into the journey of the women in Gutter Child."
A second book, and poems by Maya Angelou! Honestly I couldn't be more thrilled.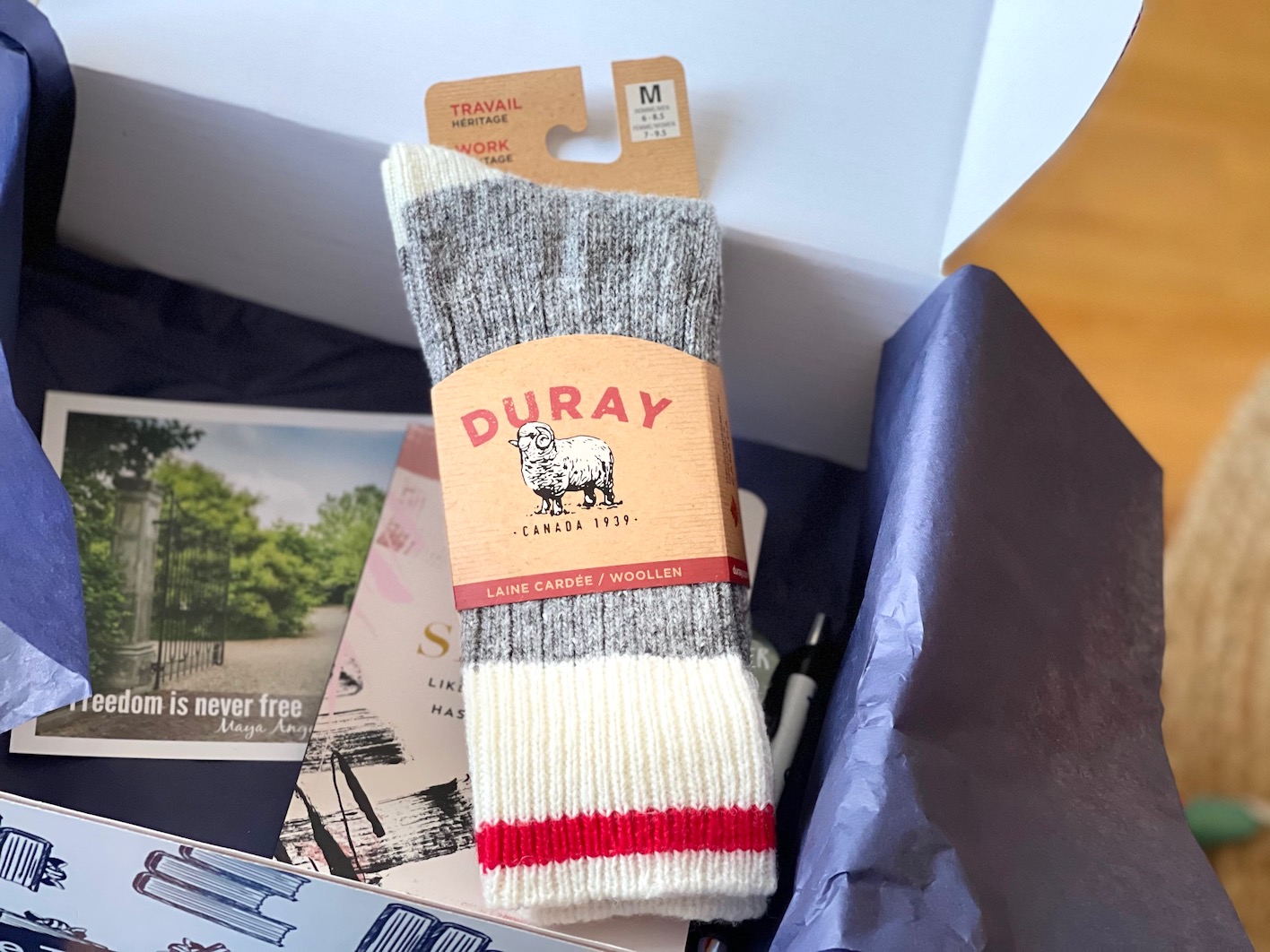 Wool Socks (Duray Canada)
"The Gutter Children work hard at Livingstone Academy in order to put freedom in their future. Wear these comfortable socks when doing your hard labour or playing hard."
Pulling on a a cozy new pair of socks is one of those simple pleasures that always surprises me by how good it feels. (I even feel good just thinking about it!) Our kitchen floor is always cold but these socks keep my feet nice and warm.
Sweet Reads Box Pen (SRB)
"The perfect reading and journal writing pen. Keep for yourself or pass along to a Sweet Reads Box loving friend."
She's Like Nothing the World Has Seen Before Journal (Compendium)
"A beautiful journal for dreaming, planning or reading notes. Filled with beautiful designs, bold statements and inspirations."
I'm picky about my pens but this Sweet Reads Box one writes nice and smoothly and the rubber grip makes it comfortable to hold. And the journal is just lovely.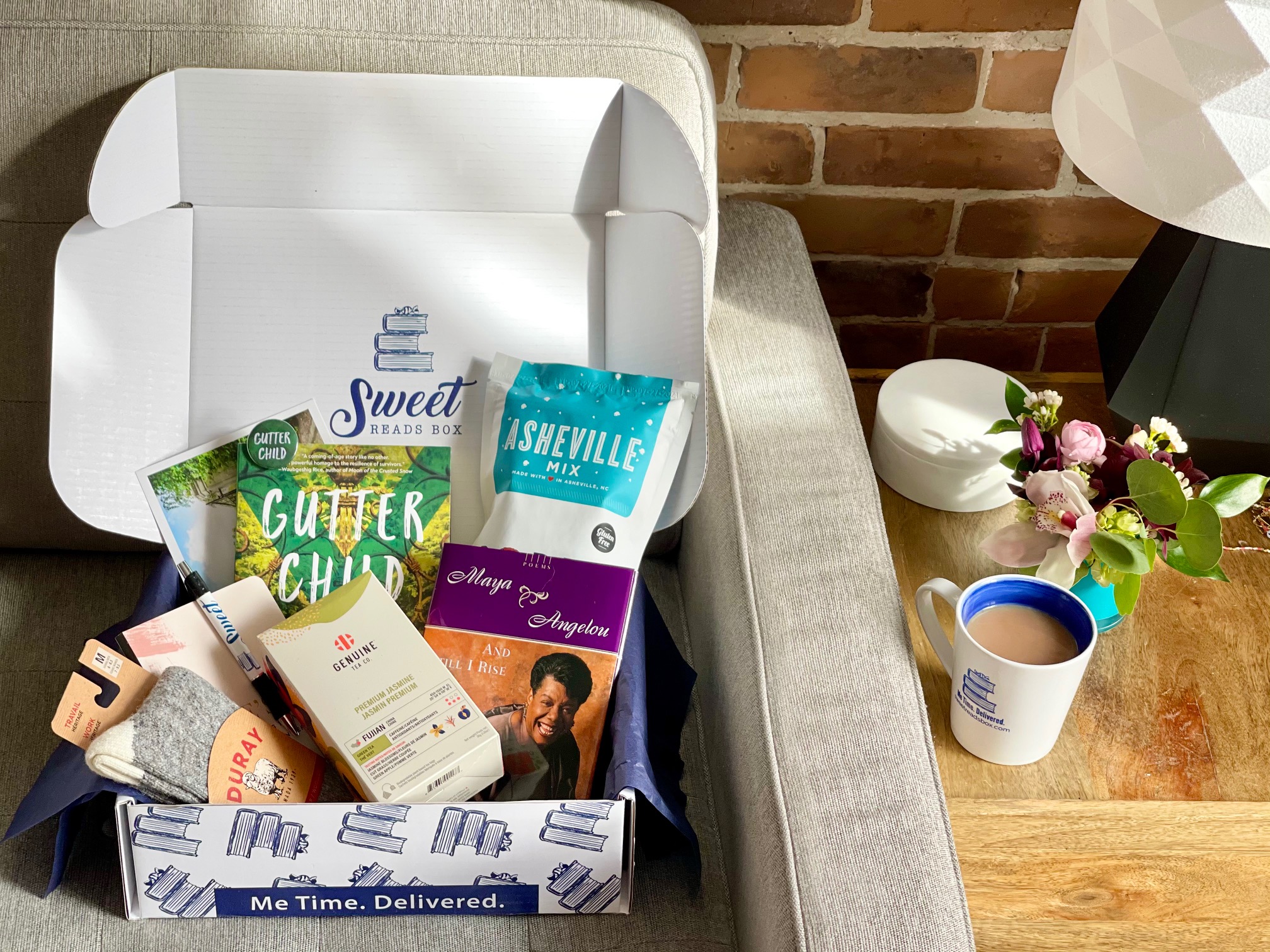 Can you spy the Gutter Child button? Each February Sweet Reads Box included one from publisher HarperCollins Canada and 100 boxes also had a tote bag (those were randomly distributed among boxes and provinces).
February's Sweet Reads Box is sold out and March too but April boxes are still available to order, either as a single box or by subscription.
Single monthly Sweet Reads Box: $80
Three-month subscription: $230.97
Six-month subscription: $443.94
12-month subscription: $863.88
Sweet Reads Box ships Canada-wide and shipping is included.
And you can save 10% on three- and six-month subscriptions when you sign up for the Sweet Reads Box mailing list. The co. also shares bookish news, discounts and info on upcoming boxes on Instagram, Facebook and Twitter.
What do you think of February's Sweet Reads Box? Have you read Gutter Child?
Try Small Things – https://trysmallthings.com