Sweet Reads Box Review Limited Edition Coffee Lover's Box 2021
No matter what life stage you are at time for yourself seems to get lost in the everyday. Sweet Reads Box is your chance to sit down, relax and enjoy a great read, a decadent sweet and a carefully curated item that ties to your novel. They kindly sent us this box for review.
The last limited edition box from Sweet Reads Box that I shared with you was the Halloween Box, and as sad as I am that Halloween is over, the Limited Edition Coffee Lover's Box certainly lessened the blow. I love ALL things coffee so this box is perfect for me!
Subscription Details
Sweet Reads Box has a regular monthly subscription and they also offer a variety of limited edition boxes each season.
What You Get: Each Sweet Reads Box includes the following….
Bestselling fiction novel – Your book will be chosen from one of the top bestseller lists.
Beautifully crafted items – Carefully selected to be the perfect match that connect to the novel in some way.
Artisan drinks – A delicious selection to set the mood and enhance your reading pleasure.
Gourmet goodies – A sweet treat to enjoy while reading and relaxing.
Here's a closer look at the Limited Edition Coffee Lover's Box from Sweet Reads Box….
Harlem Shuffle by Colson Whitehead
Pulitzer Prize-winning author Colson Whitehead takes us inside 1960's Harlem in this novel full of hoods, crooks, heists, and shakedowns. Harlem Shuffle is at times a family story, historical fiction, and also a crime novel. You become engrossed in the details of place and culture while learning more about social pressures, family obligations, and the crime-based underbelly of Harlem. We found Harlem Shuffle to be a compelling story about race, power and life in 1960s Harlem. Since copious amounts of coffee are consumed throughout the novel, we felt it was the perfect paring for this Limited Edition Box.
I'm not immediately drawn to this book so I will have to do a little more research on it. But I do see why they included it. It definitely fits the coffee theme seeing as "opious amounts of coffee are consumed throughout the novel" and I can't really think of a more suitable selection.
Coffe Bean Gummies
Delicious coffee-tasting gummies to satisfy your sweet and coffee cravings.
I love, love, love Squish gummies and how perfect are these for a coffee-themed box? They are even shaped like little coffee beans. How fun is that!
Rainforest Alliance Certified Ethiopian Coffee
A remarkable single-origin coffee grown in the birthplace of coffee. Look for tasting notes of citrus, cacao, floral and orange pekoe tea.
I don't think I have received this brand of coffee before so it will be fun to do a little taste test. I might even have to check out their website because I am always looking for a new coffee fave.
Turbo Espresso
A medium-dark roast blend of Central and South American coffees. 50% Brazil and 50% Guatemala. Look for tasting notes of Nougat, Chocolate and Toffee.
Coffee and espresso in one box! It feels like my birthday! This is exciting, and I happen to love the Propeller brand. Another website I will have to spend some time browsing.
Coffee Socks
Our favorite mismatched socks! From bean to cup, these socks have it all.
The cutest little pair of coffee themed socks! I'm trying to remember if they include socks in all the Limited Edition boxes and I kind of think they do. Such a fun item to receive.
Coffee Swedish Dishcloth
Perfect for cleaning up spilled coffee, brewer drips, or grounds beans. Bring some coffee love to your kitchen.
I have received these reusable cloths before and I love them! They are very absorbent and perfect for wiping down the counter. Something I am constantly doing 🙂
Blue Enamel Look Mug
A classic retro mug styled after enamelware but much nicer to drink from. A classic mug for your delicious coffee.
Love, love, love!!! This is one of the cutest coffee mugs I have received to date. I love the simplicity of the design and I am also really loving this blue color.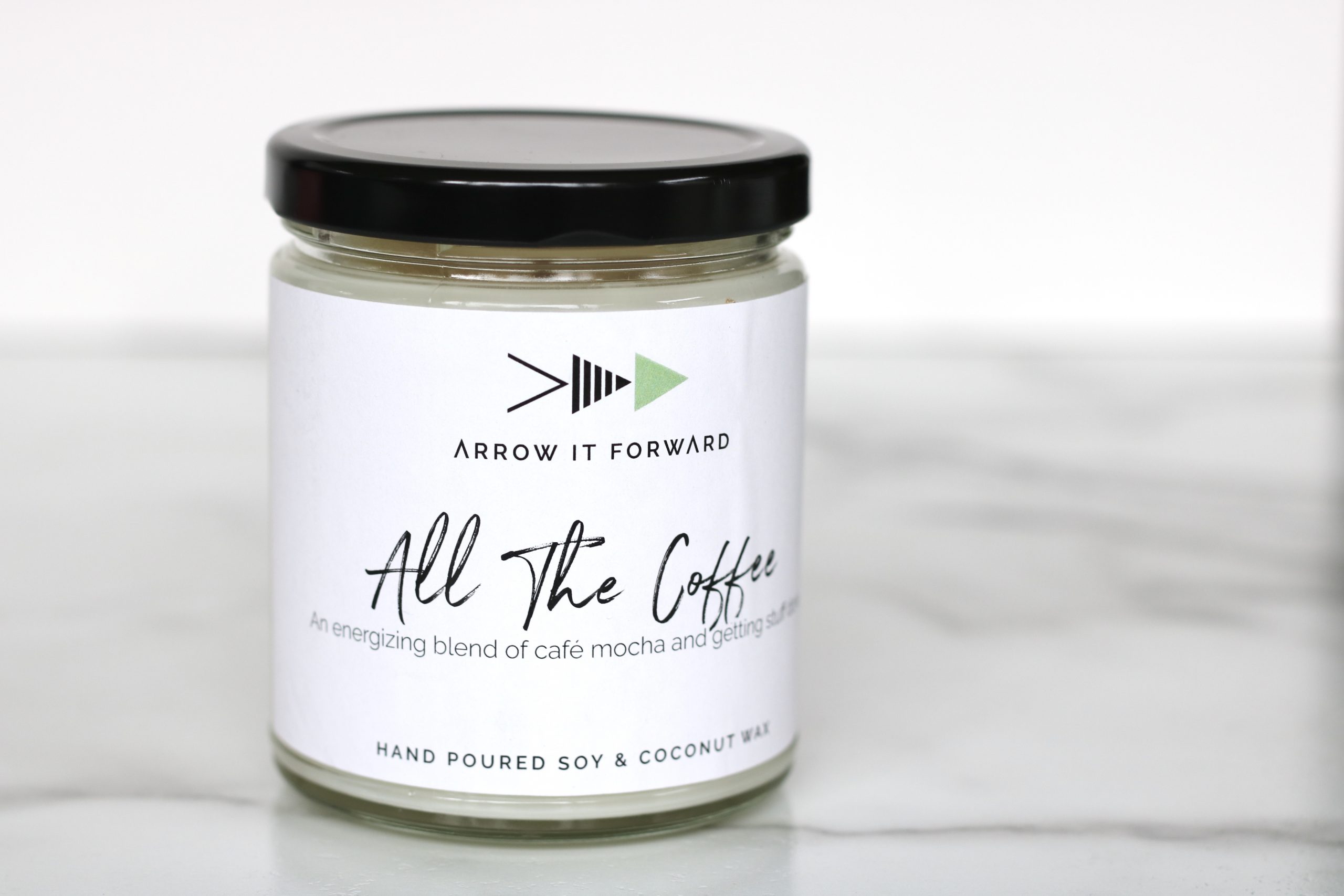 All The Coffee Candle
This little beauty wasn't on the product card so I am wondering if it is a bonus item? Regardless, I am very excited to have received it. I love candles almost as much as I love coffee and this one smells SO dang good! The perfect complement to our book, mug and espresso.
Coffee Mug Vinyl Sticker
Show off your love for coffee with this fun vinyl sticker. Great for your laptop or water bottle.
The cutest little coffee cup sticker ever! I must find a place for this ASAP.
Limited Edition Coffee Lover's Box 2021 – Final Thoughts
I have really come to love the Limited Edition boxes from Sweet Reads Box over the years. I might even use the word obsessed. Each and every LE box I have received has been absolutely perfect. They always do such a great job, they source the cutest items, and I love the brands they work with. my favorite LE boxes are definitely the seasonal ones, but this coffee box is a very close second.
-AYOB Sarah