Sweet Reads Box Review: Limited Edition Valentine's Box 2022
No matter what life stage you are at, time for yourself seems to get lost in the everyday. Sweet Reads Box is your chance to sit down, relax and enjoy a great read, a decadent sweet and a carefully curated item that ties to your novel. They kindly sent us this box for review.
Don't you just LOVE holiday themed boxes? I sure do! They are my favorite kind of boxes to receive….hands down. And I especially love the holiday boxes from Sweet Reads Box because they always do such an amazing job choosing products to complement the special day.
Subscription Details
Sweet Reads Box has a regular monthly subscription and they also offer a variety of limited edition boxes each season.
What You Get: Each Sweet Reads Box includes the following….
Bestselling fiction novel – Your book will be chosen from one of the top bestseller lists.
Beautifully crafted items – Carefully selected to be the perfect match that connect to the novel in some way.
Artisan drinks – A delicious selection to set the mood and enhance your reading pleasure.
Gourmet goodies – A sweet treat to enjoy while reading and relaxing.
Here's a closer look at the Limited Edition Valentine's Box from Sweet Reads Box….
Book: What Might Have Been
Have you ever wondered what might have happened if you chose a different path in life or in love? Holly Miller's novel What Might Have Been does exactly that. Showing us two directions of Lucy's life. What would her life be like if she went to London or stayed in her small seaside British Town? We loved this Sliding Doors type novel and the concurrent storylines. A great romance novel that asks deeper questions about love, fate and chance.
I have always loved the Hallmark movies that feature a "what could have been" type of storyline so this book definitely appeals to me. I'm excited to see what happens when Holly chooses a different path, and it's always so fun to see which one they end up with in the end.
Milka Chocolate Bar
We have been fans of these delicious German chocolate bars since we first tried them in Europe. We included one bar (from an assortment of flavours) to enjoy with your novel. Easy enough to share, but we don't blame you if you choose to keep it all for yourself.
I've never tried this brand of chocolate before but the flavour I received sounds amazing! I am a HUGE fan of white chocolate (even thought it's not vegan-friendly) and can't wait to enjoy a piece of this with a cup of tea in the afternoon.
Hot Chocolate
One for you and one to share. Perfect for cozy nights with a great book.
We received two different flavours – Rocky Road and Cherry Chocolate Sunday. I'm not really one to drink hot chocolate so I am going to gift these to my niece who lives next door. She can share them with a friend.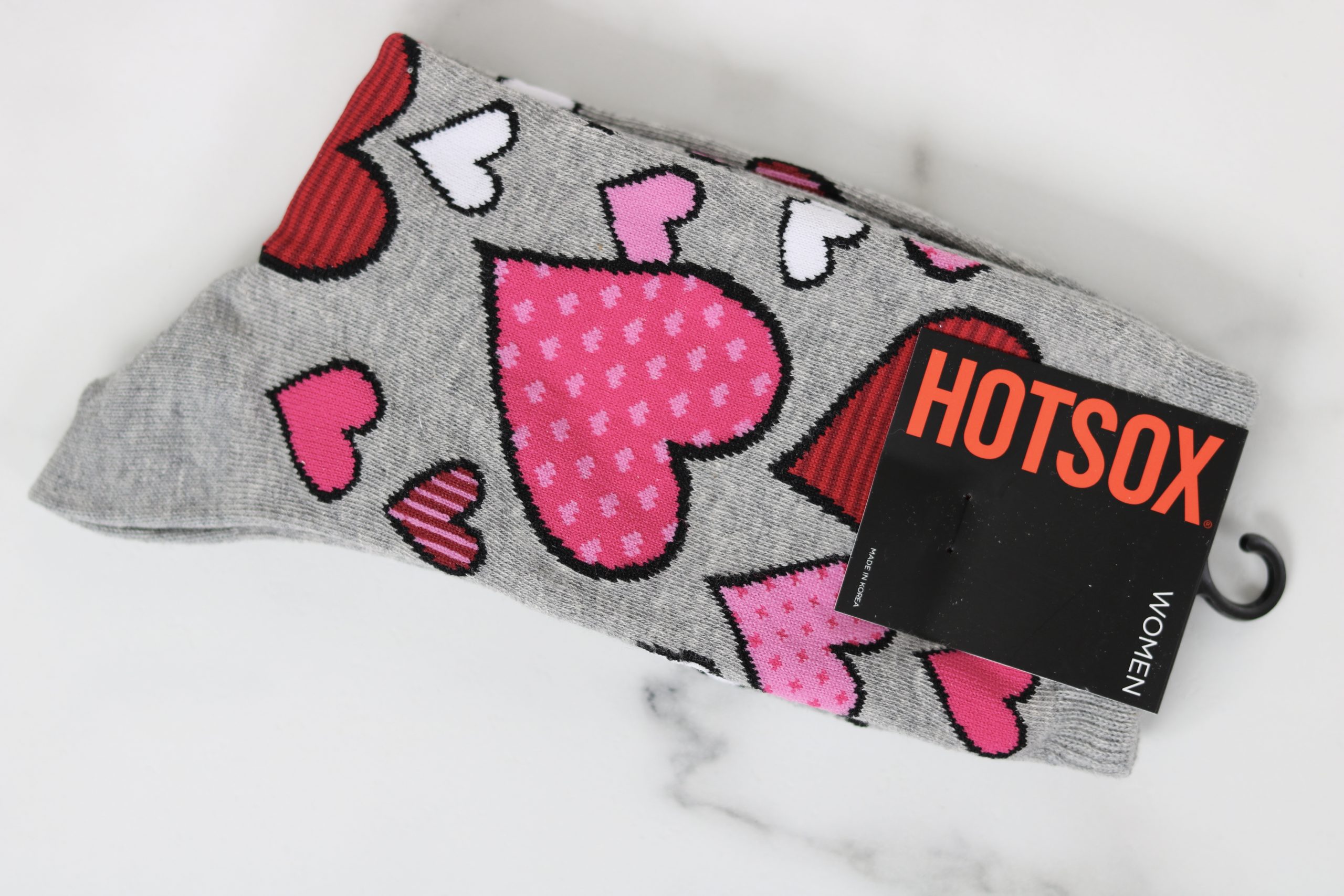 Heart Socks
Celebrate love every day of the year with these fun socks. Cozy and warm, they will be your new favorite reading socks.
No holiday-themed box would be complete without a pair of holiday-themed socks! These ones are SUPER cute with all the different size hearts. So cute!

Better Be'ver Shave Cream
The best way to get ready for date night! We know you will love this 100% natural feminine aftershave.
I love, love, love all of the products I have received from Walton Wood Farm so I was very happy to see this shave cream in the box. So far I have received hand cream, scrub, and lip balm. I also love that their products are all-natural.

Sprinkles (Assorted Styles)
Perfectly crafted Canadian-made sprinkles. Great topping for your hot chocolate and pancakes.
I love baking cupcakes and like to have products like this on hand at all times. I actually have a little baking "toolbox" so that I am ready to bake at a moments notice. I will definitely get use out of these.

Vanilla Gem Pancake Mix
The most delicious way to celebrate lazy mornings, love, and books. Top these pancakes with your Sweetapolita sprinkles and whip cream.
We have started hosting Sunday family breakfasts now that we are in the new house so I am tucking this away for our next get-together. I will be sure to pick up some whip cream and strawberries to use as toppings.

Love You More Than Books
A sweet and slightly snarky card to give your loved one.
The cutest little card. I will tuck this away for next year and give it to my husband.

Handmade Crocheted Bookmark
We were thrilled to include these hand-crocheted bookmarks. Beautiful crafted, each bookmark is unique and made with love.
Isn't this just the cutest little bookmark ever! I'm happy to see a second item (the first being the socks) with heart detail. I take that back……third item…..the sprinkles are shaped like hearts as well.
Limited Edition Valentine's Box 2022 – Final Thoughts
I wouldn't say that this is my favorite holiday themed box from Sweet Reads Box but it's still pretty wonderful. I like that they included a few items that can be used together – I'm picturing a lazy Sunday morning filled with hot chocolate, pancakes and sprinkles. I will wear my adorable little heart socks and maybe surprise my hubby with a random "I love you card" even though Valentine's is over. Why not create our own day of love!
And then maybe he can let me have some "mommy time" later in the evening so I can enjoy a bath and try out my new shave cream:)
-AYOB Sarah