Sweet Reads Box Review February 2022
Well February was fairly terrible as I've said but one exceptionally good thing was February's Sweet Reads Box. I've heard so many great things about the book and the assortment of treats alongside is just brilliant — like a box of sunshine in what's felt like a never-ending winter. If you're not familiar with Sweet Reads Box, it's a monthly subscription service available in Canada and the US that sends you a new novel and a variety of bookish delights to enjoy alongside — think delicious things to eat and drink, fanciful mugs, clever bookmarks, great-smelling bath and body products and other delightful surprises. Basically all of my favourite things! 🙌 🙌 *
* Sweet Reads Box kindly sent us this box for review.
Sweet Reads Box is based in Ontario and sources most of its products from Canadian companies. You can subscribe for three, six, or 12 months or buy boxes individually. Sweet Reads also releases a number of limited edition boxes throughout the year, all available to order by the box.
Each box comes with a product card detailing the contents (you'll see the descriptions below in italics). Let me show you what's inside February's edition and then I'll share some thoughts after.
Just like Sweet Reads, I've used a Canadian flag 🇨🇦 to indicate Canadian products.
Black Cake by Charmaine Wilkerson
February's Sweet Reads Box pick is the much-acclaimed novel Black Cake by Charmaine Wilkerson. Released February 1, the book became an instant bestseller and is already set to become a series on Hulu.
"An amazing debut novel, Charmaine Wilkerson dives deep into the question: Do we really know the story of our parents and their lives? From the first page, you will be drawn into the story of Eleanor and her children, Byron and Benny. The journey takes us through their history in Jamaica, England, and California. A story about love and loss, escape and belonging, swimming and surfing, baking and family."
February's box also included a letter from the author exclusive to Sweet Readers.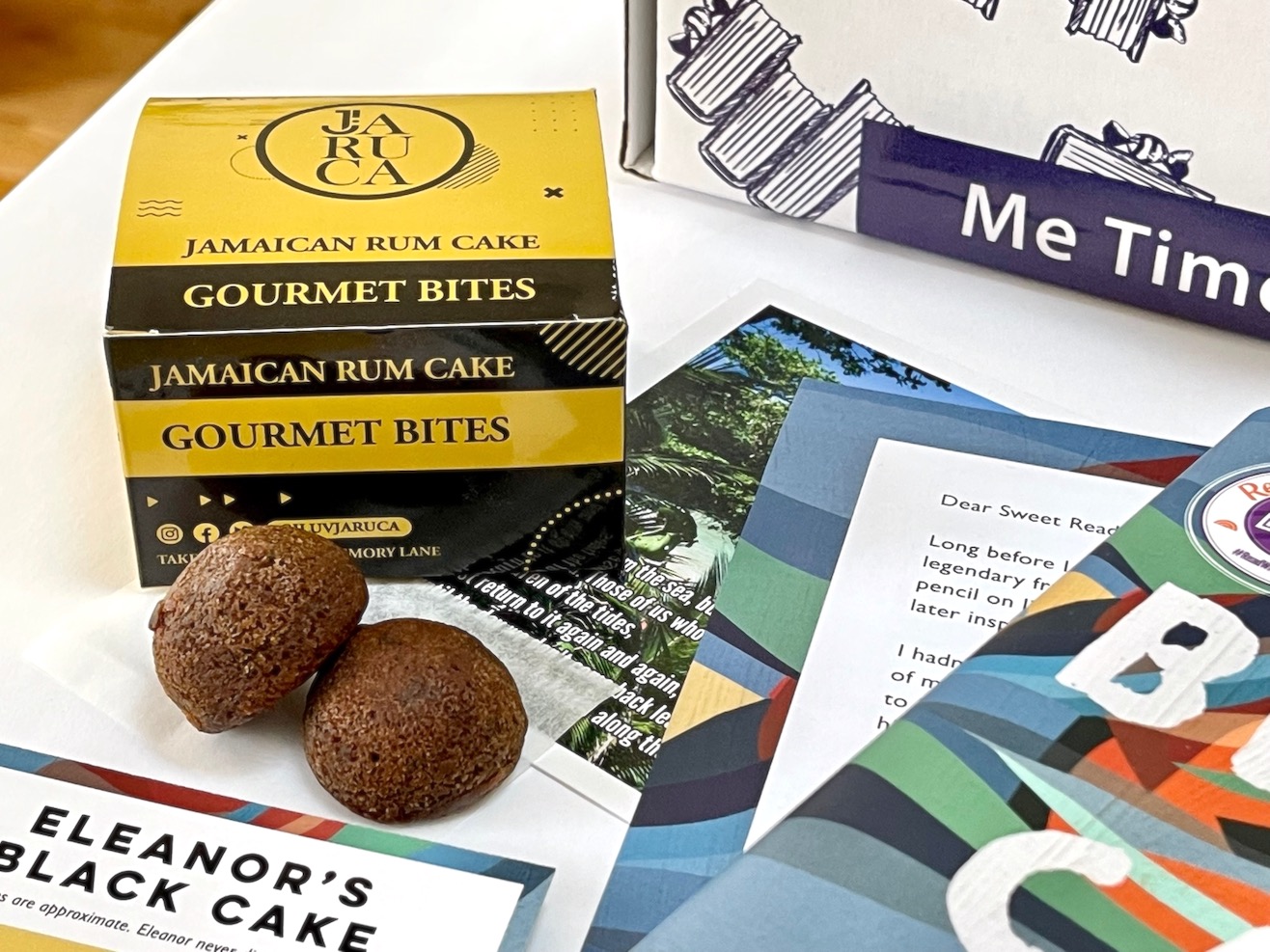 Black Cake · Jaruca · "We absolutely could not send this box without including Jamaican Black Cake. Are they just as good as Pearl's Black Cake? we will let you decide. Made in Illinois, with love, by Selina Davis."
Black Cake Recipe · "Try your hand at making Eleanor's Black Cake with the traditional recipe. Share your photos with us. We cannot wait to see your creations."
Vegan Gummy Sharks · Squish · "Every good ocean scientist enjoys seeing a healthy shark. We think you'll enjoy these ones from Squish." 🇨🇦
Benny's Dream Beans · Propeller Coffee · "Benny long dreams of opening her own coffee shop. We encourage you to brew up a pot of this amazing coffee to enjoy while reading Black Cake." 🇨🇦
Dreaming of Coffee Candle · Allen Wick Candles · "Created to evoke all the memories of your favourite coffee shop. Just like Benny's dreams, this custom scent will have your dreaming of coffee long after you've finished the novel." 🇨🇦
Swimmer's Rescue Lip Scrub · Walton Wood Farm · "With Bennett family secrets as deep as the ocean, this lime + mint scrub will help keep those lips free of flakes, and more importantly, properly sealed." 🇨🇦
Beach Babe Lip Balm · Walton Wood Farm · "Bunny and Covey could have used this 100% natural lip balm to keep those swimmers' lips soft and supple." 🇨🇦
I think February's Sweet Reads Box is absolutely brilliant. First off, the book! 😍 I'm thrilled they picked this one for Black History Month and I'm so excited to have a copy! And maybe that rings a little hollow since it's the end of March already and I haven't started it but I find it really comforting to see it on my book cart and know it's there to pick up any time. (I've been too rattled the past couple of months to read but I'm starting to get my concentration back.) And I think Sweet Reads Box did an incredible job choosing products that tie in to the story, from the Black Cake bites and the recipe to the coffee and the candle (which all smell amazing BTW), plus the gummy sharks (we love Squish!) and that great lip scrub and balm. If you missed out and you'd like to try it, Sweet Reads Box has a limited number of February boxes available for purchase.
All Sweet Reads Boxes include shipping. The following prices are in Canadian dollars.
Single box: $89.99
Three-month subscription: $86/month
Six-month subscription: $84/month
12-month subscription: $82/month
Have you tried Sweet Reads Box? Have you read Black Cake? Are there any particular authors, products or themes you'd like to see in future boxes?
Try Small Things – https://trysmallthings.com