Sweet Reads Box Review: Limited Edition Tea Lover's Box 2022
Pull up a chair and join me for a cuppa something sweet — Sweet Reads Box limited edition Tea Lover's Box, served up this spring. I get my love of tea from my mom so I saved the box to share with her when she was up for Easter. *
* Sweet Reads sent this box for review.
If you're not familiar with Sweet Reads Box, it's a marvellous Canadian book box that sends you a new novel each month, something tasty to eat and drink and a few bookish goodies cleverly tied in to the story (think pretty journals, cozy socks, delightful mugs and great-smelling candles). Sweet Reads also releases a number of themed limited edition boxes throughout the year, available to purchase by-the-box and/or as part of a bundle. This one is sold out but you can still order the Beach Reads Box, Men's Box, Summer Suspense Box and Book Lover's Box.
Like the monthly boxes, each limited edition includes a product card with a guide to the contents. I've quoted from it in italics below. The Canadian flag indicates a Canadian product. Sweet Reads ships to Canada and the US.
Everyone say hi to my mom. (Hi mom! 👋)
First up, The Diamond Eye by Kate Quinn.
"Based on the true story of a bookish student and young single mom turned sniper for the Russian Army, The Diamond Eye boils over with such gripping suspense we turned the pages faster than 'Mila' Pavlichenko could have fired a shot. Set against the start Russian winter during Hitler's invasion and throughout the USA, 'Lady Death' was a librarian, solider, and unlikely friend to Eleanor Roosevelt. The events were so thrilling, and we had to remind ourselves most of them were true. Kate Quinn's masterful storytelling is not just a reminder that modern-day privilege was built on the back os soldiers who sacrificed so much, but an inspiration that show us we are capable of so much more than we think."
My mom took this home with her to Toronto and tore through it in a couple of days. (She really enjoyed it!) I'll have to borrow it when I get a chance. (She's already passed it on to a friend so I have to get in the queue.)
Matcha Latte Chocolate Bar · Centre & Main · "This remarkably crafted bar combines organic matcha tea with chocolate to create a one-of-a-kind chocolate bar. Simply perfect." 🇨🇦
Matcha isn't my cup of tea (pun intended) but my mom liked it well enough, and she isn't even big on chocolate.
Monarch Chai · Monarch Tea · "A chai blend you will love drinking any time of year. Combining a black tea base with cardamon, ginger, black pepper, anise, lavender, jasmine, clove, nutmeg and rose petals." 🇨🇦
My mom saved this to brew for her book club. (It's her turn to host next month.) Always nice to offer a selection.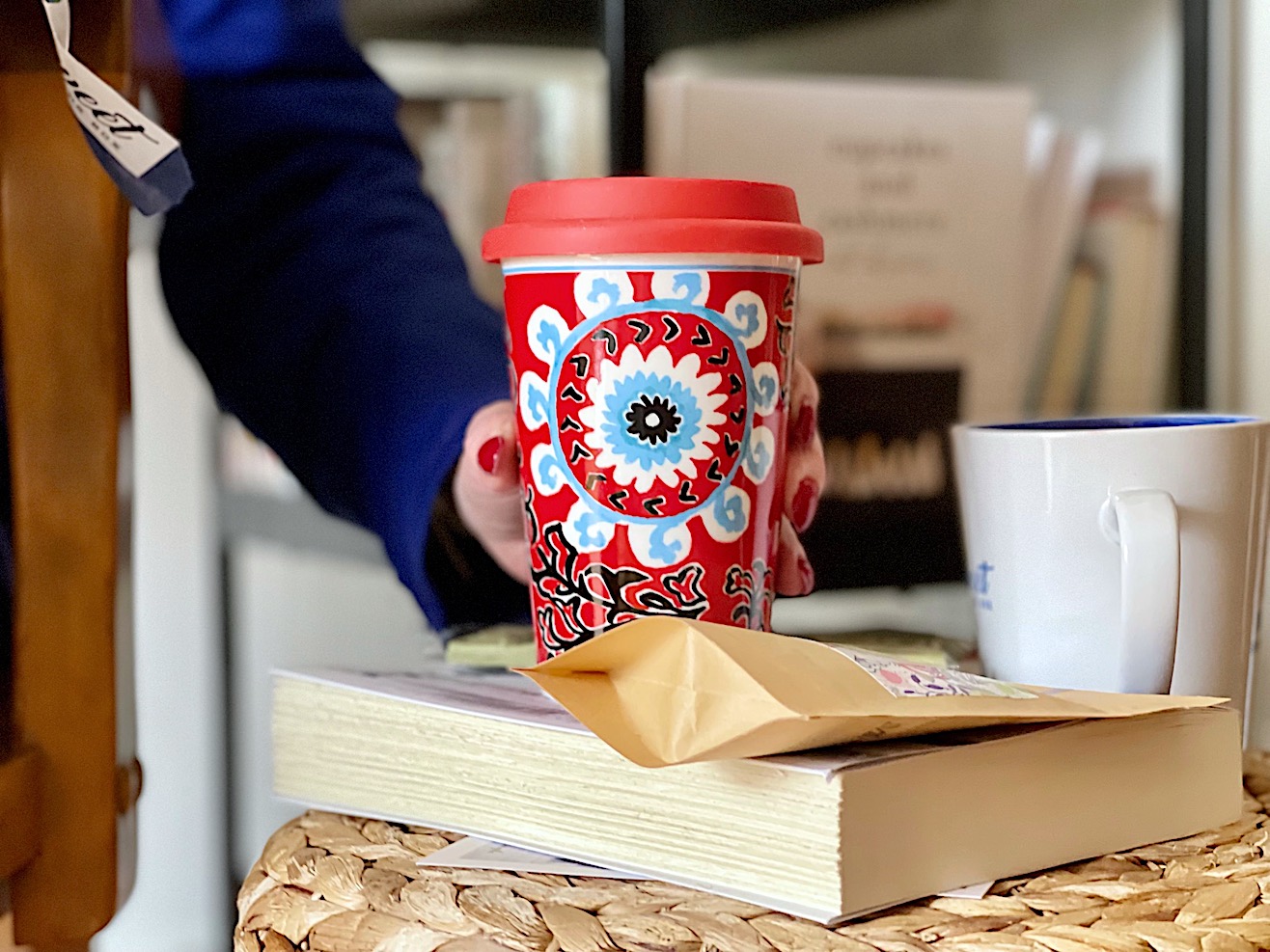 Travel Mug · Abbot Collection · "A vibrant mug for your tea on the go. We loved this pattern and its style, evoking cultures and places Mila may have travelled through." 🇨🇦
My hubby has a one in, one out policy when it comes to mugs but I don't, ha ha, so this one is staying. I love the design and the colours and it's a good size too.
Book Shop Candle · AllenWick · "A customer favourite, we just had to include this candle. Set the mood for reading with a fresh cup of tea and The Diamond Eye." 🇨🇦
We saw this candle in last September's Sweet Reads Box. It's a little sweet for my taste — it smells more like a bakery than a bookshop — but my fella's a fan so I kept it. Plus it makes an excellent accessory for bookish photos.
Assam Breakfast Tea · Genuine Tea · "A bright, delicious black tea we love starting our morning with. This tea is made with a blend of teas from India, China and Sri Lanka. It contains a high caffeine content and is perfect served with milk." 🇨🇦
Sticker · Desk of Sandra · "Celebrate tea with this fantastic sticker. Perfect for your laptop, travel cup, book cart, or notebook." 🇨🇦
Few things taste better than that first cup of tea and this one is a delicious one to start the day. Genuine Tea calls it "a strong, malty cup with hints of cocoa and cinnamon." And the sticker is adorable! Just like the Sweet Reads pin Desk of Sandra made for last October's box.
Pear Walnut Chutney · Luv The Grub · "The perfect pairing for cheese, meats, sandwiches, and more. This divine chutney is made from imperfect fruit that grocers would have tossed but instead, this Canadian company turns it into delicious products you'll love. We chose the pear chutney because Mila is given a rare pear in the novel, and in wartime, every last bit of food is used; nothing is left to waste." 🇨🇦
My fella enjoys a good chutney and regularly pulls this one out of the fridge to spread on crackers. And we love that it's made of fruit that would have been waste otherwise.
I love how Sweet Reads Box regularly introduces me to books and products I might not have seen or tried — most of them hits, some of them misses, but all a surprise. It's obvious that they take great care in choosing the contents, not only in terms of how they relate to the story but also in sourcing from Canadian companies for the most part. Everything is carefully packed but not overly packaged and I've never received a damaged item or a box with a missing item. Such a great gift for book lovers!
The Tea Lover's Box is sold out but like I mentioned earlier, the following limited editions are still available:
The Men's Box
Beach Reads Box
Summer Suspense Box
Book Lover's Box
Each sells for $100 CAD + shipping.
Have you tried any of Sweet Reads Box' limited edition boxes? I'd love to hear!
Try Small Things – https://trysmallthings.com