Sweet Reads Box Review July 2022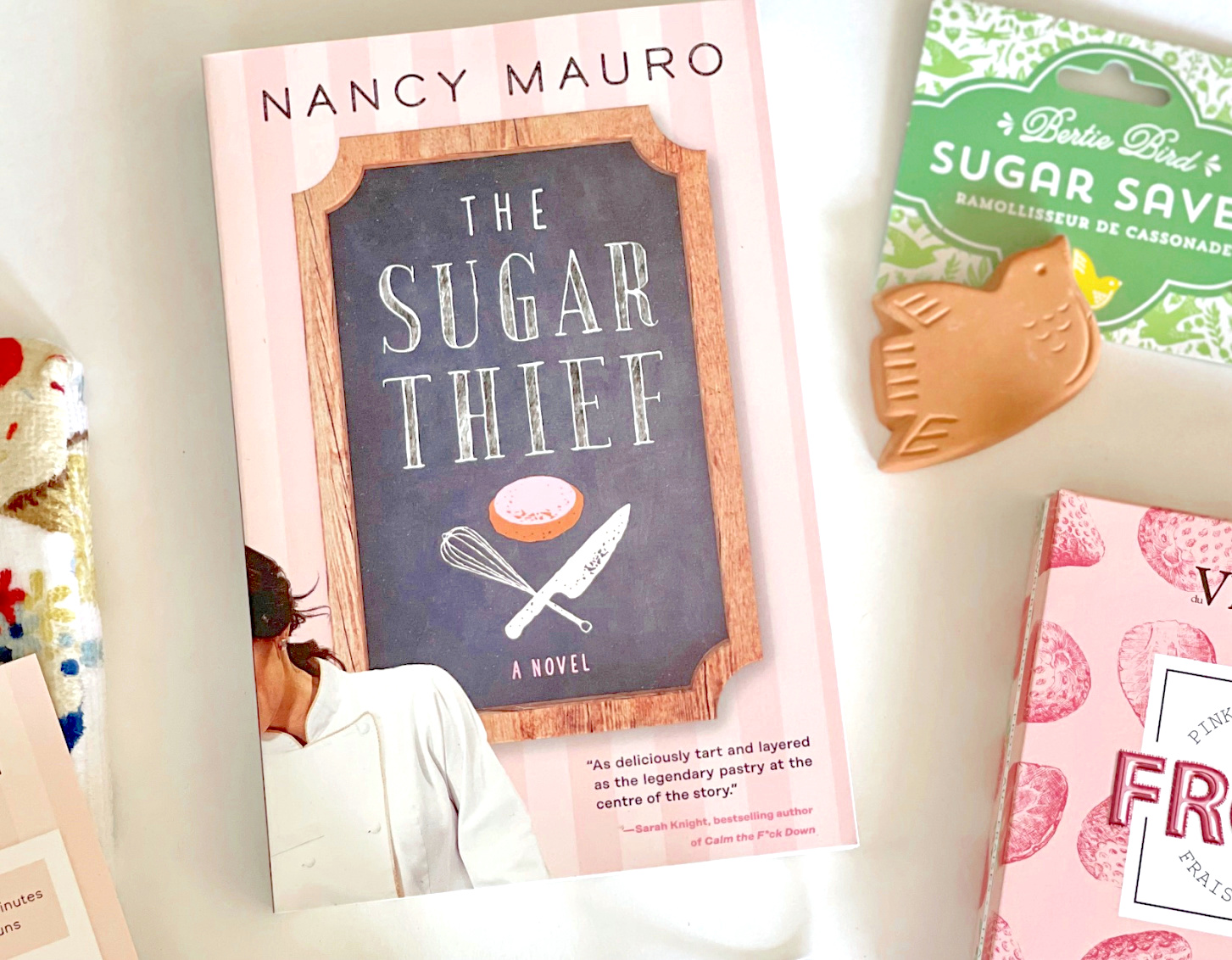 Coming up on its fifth anniversary this fall, Sweet Reads Box is the OG Canadian book subscription box and one of my favourite things to see at my door. Every month you get a new novel, a treat to eat and drink alongside and a few bookish goodies tied to the story like cute stationery, nifty mugs, great-smelling candles and soaps, exclusive recipes, etc. They call it "me time delivered" and it's pretty bang-on. I saved a few items from July's box to try with my mom while she's visiting this week but in the meantime, here's a first look. (The Canadian flag 🇨🇦 indicates a Canadian product.) *
* They kindly sent us this book for review.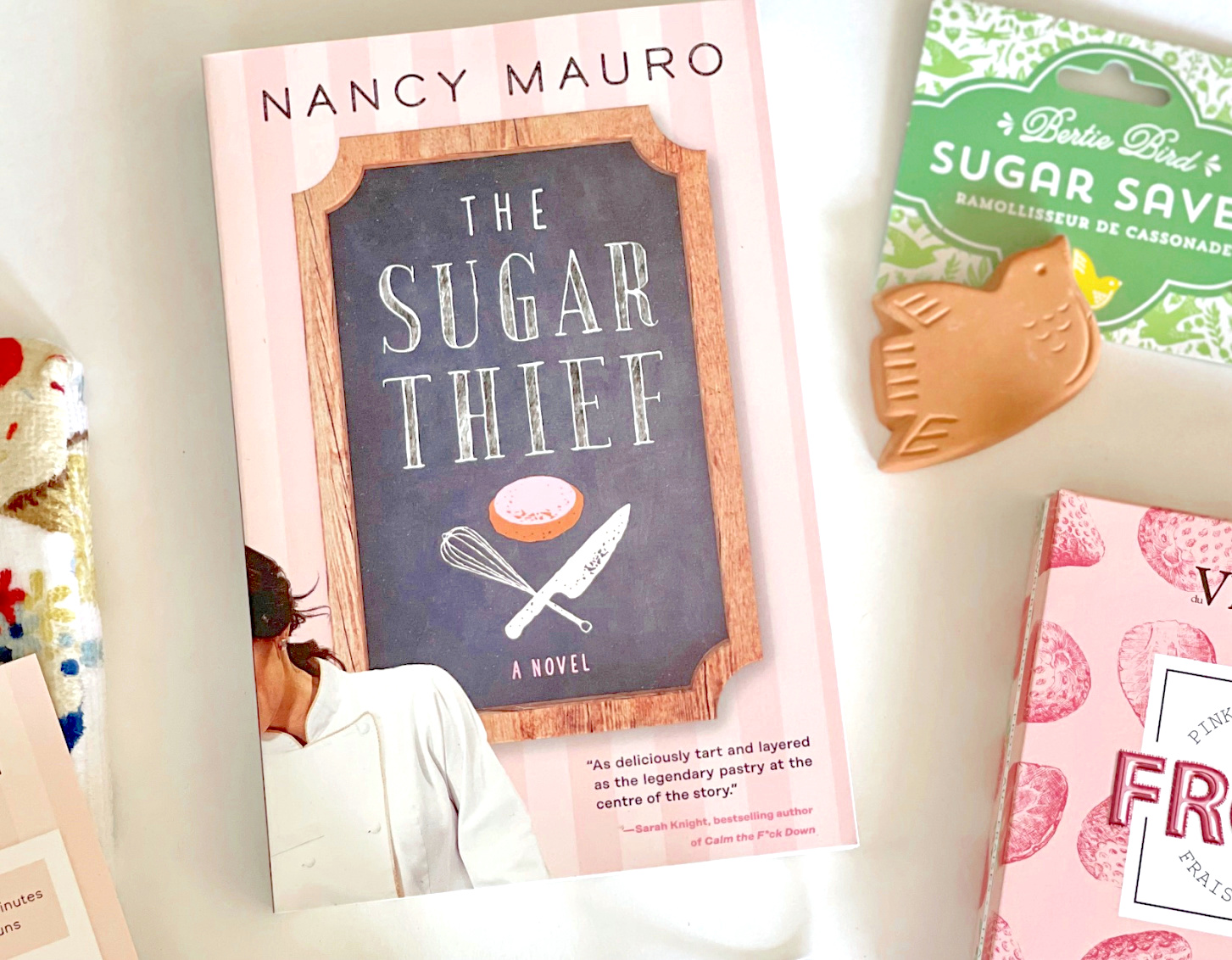 Sweet Reads Box contents are always a surprise and July's are extra sweet. Starting with The Sugar Thief by Nancy Mauro. Combine a social media darling with millions of followers with a hometown visit to her family's bakery and you have a funny, witty and emotional story. Sabine is a unique character brought home for a family funeral but that is just the tip of the pastry bag. A story of chaos, critique and a social commentary we think you will thoroughly enjoy with this sweet yet salty novel. 🇨🇦
I haven't started it yet but The Sugar Thief sounds like it's got all of the ingredients for a great escape. And I think my mom will enjoy it too.
Sweet Reads also included a letter from the author and a bookmark (not pictured here).
The Persian Infamous Pastry Filling (Walton Wood Farm): "Custom made jam that is excellent on toast, and amazingly delicious as part of the special pastry recipe included." 🇨🇦
The Persian Recipe (Penguin Random House Canada): "While we cannot all go to Thunder Bay to enjoy a Persian; this recipe will allow you to create a Persian at home. Use your jam in the icing for this delightful pastry/donut." 🇨🇦
We moved around the corner from an excellent doughnut shop and they're all I want to eat so I can't wait to try this recipe! And the jam to go with!
Strawberry Frosé Mix (Gourmet du Village): "Inspired by the strawberry icing in the Persian Pastry. A sweet summertime drink great as a wine slushy or with your favourite non-alcoholic beverage. Pairs well with sweets and Sabine's drinking problem." 🇨🇦
Donut Shot Glass (Danica): "With a lot of drinking in this novel, what better way to toast to a great Canadian book than with this fun shot glass." 🇨🇦
July's box is really speaking to me with all of these sweet treats. The frosé sounds great, with or without booze. Or maybe with and without LOL. Even if just so I can report back. 😉
Donut Bath Bomb (garb2art): "While we couldn't put a freshly baked donut into each box, this amazing donut bath bomb will allow you to relax, unwind and enjoy Sugar Thief. We love that this company is women-owned, and is an earth friendly brand."
'Donut Forget' Notepad: "Custom made for Sweet Reads this notepad is ideal for grocery lists, messages and more. The perfect tool for Wanda to plan her sabotage moves." 🇨🇦
I used this bath bomb the other day and our tub still smells great! So cute with the sprinkles! They dissolved in the water and didn't leave any colour behind. (I was a bit worried about that.) And I can always use a notepad. Props to Sweet Reads for the cute pun.
Bertie Bird Sugar Saver (Danica): "A nod to Wanda and her many talents, this terracotta bird will keep your brown sugar soft for 3 to 6 months. A reusable baking tool your kitchen and brown sugar will love." 🇨🇦
Cupcakes Tea Towel (Danica): "With its perfectly sweet design, this light tea towel will become a fast favourite in your kitchen." 🇨🇦
Both so darn cute! And the tea towel is super absorbent so I appreciate that.
July's box put the sweet in Sweet Reads Box and I'm here for it! What do you think? Donut we love?!
All monthly Sweet Reads Boxes include shipping and ship across Canada and the US.
Single box: $89.99 CAD
Three-month subscription: $86/month
Six-month subscription: $84/month
12-month subscription: $82/month
Have you tried Sweet Reads Box?
Try Small Things – https://trysmallthings.com