We Craft Box Review December 2019
We Craft Box provides you every month with 3 to 4 crafts for you to do with your kids and a story that matches the theme. There is always a cute monthly theme and you get all the materials and instructions to do the crafts. Of course, if your kids feel creative, why not let them go and enjoy the stuff to make their personal creation? No obligations here, just fun!
Crafting with your kids is the fun part, but if you are like me, finding new ideas, materials and time to do so is not the best part. I want to spend time with my kids and have fun, but struggle to find the time to prepare all the items and just wish someone did it for me. Well, in We Craft Box, I found exactly what I needed.
If you want to try it out, you can buy a box with the theme of your choice for $29.99 + shipping or buy a subscription. Here are your We Craft Box options:
a month to month subscription ($29.99/month)
3 months prepaid ($84.99)
6 months prepaid ($159.99)
1 year prepaid ($299.99)
*Prices in USD. Shipping is free in the USA and $5 for Canada.
Now guess what the We Craft Box December theme is… Yes! A super cute Christmas theme. Fun fact: I received my box at work, and I did a little sneak peak with my co-workers when it arrived. They liked it so much they asked me if they could do it with me (they were not joking). Of course, I kept everything for my family, but it looks so fun I would enjoy doing it alone too.
Here are five activities that We Craft Box kindly sent me to review (well, mostly my kids to review, but I will enjoy the moment as much as they will!).
First Activity: Gingerbread Card
How cute is this? I like that the little gingerbread men are precut, less trouble for younger kids that have a hard time cutting with scissors. You only need a little bit of water with this one to play with the metallic sticks. If you wonder why the wipes, it is to make the nuudles sticky to use them as eyes and other decorations. (I thought at first that one craft was so messy they thought to put wipes for cleaning after ha-ha.)
There are two gingerbread cards and I have two boys. Perfect! If necessary, I will use one as a patron and draw some more on crafting paper that we have.
I did a little test with the metallic gel sticks, and they are very fun to use. There are lots of ways to use them: draw a simple line then you can mix it with water, make it smoother with the tip of your finger, or create a chalk effect. I will be happy to have these to draw with my kids in future projects.
Second Activity: Send Some Holiday Love
An envelope to go with the gingerbread card is well thought. It is simple, but my kids will love it since they like to draw and get creative. There is a cute pattern suggested in the instructions, but I will let my boys play with all the nice metallic gel sticks provided. The hard part will be to decide who to send these cute cards (I want one, but I bet the grand parents will be the lucky ones.)
Third Activity: Gingerbread Keepsake Ornament
This activity is my favorite because the souvenir will last since we will keep it to decorate our Christmas tree for many years to come. My youngest (5 years old) might need some help with that one but I think that is manageable. I will try to add their names and the date at the back of the decoration before I put it in the oven to harden the clay.
Fourth Activity: Festive Gingerbread Houses
We have our little gingerbread man, now lets builds some houses. Once again, there is two, so one for each boy. Perfect! We will reuse the same fun Metallic gel sticks and more nuudles that will serve as little candies to decorate the house. It is so cute, I will keep these under the Christmas tree in the living room.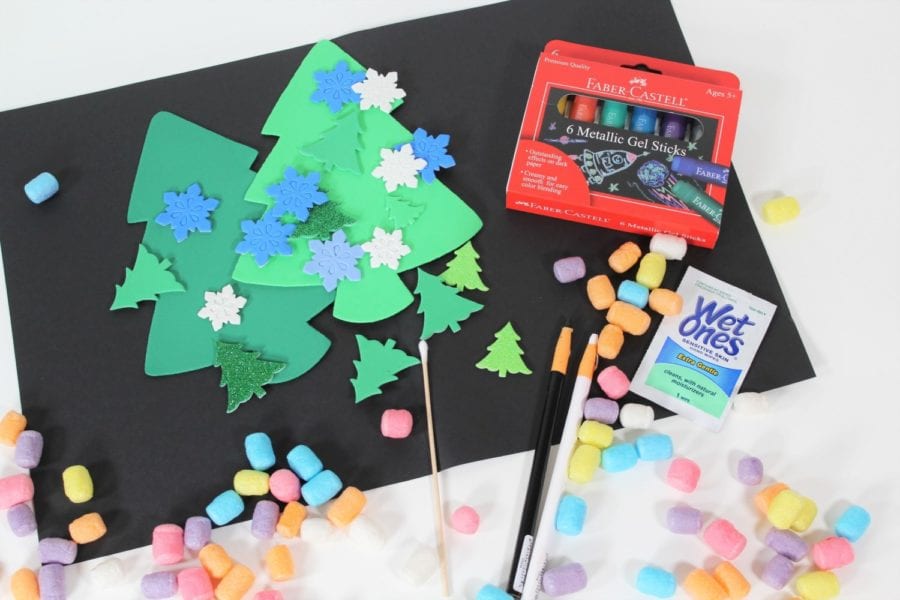 Final Activity: Create your winter wonderland
Now, let's put everything together with this final activity. We Craft Box provided black paper to draw a winter decor. I love the style that reminds me of the painting Starry Night of Vincent Van Gogh. To add some more detail, some cute sticky snowflakes are provided. Once this last activity is done, we will assemble the background with the cute little houses and the gingerbread ornament to showcase our own winter wonderland.
With every box, there is a story related to the theme. This month's story is "A Winter Wonderland".
We Craft Box December 2019 – Final Thoughts
This was my first box from We Craft Box and it was such a pleasant one to review. I liked that everything needed is in the box (even the parchment paper for the gingerbread ornament!) and the crafts really are perfect for young kids.
Most boxes I receive are for me to enjoy only, and I chose to review this one because I saw a great occasion to create more cherishable moments with my boys. We barely see them with school, work and friends' parties and I know that what they want the most is quality time with my husband and me. We Craft Box is perfect for our busy family.
I chose to keep this one for a weekend activity in December to put our family even more in the Christmas spirit, but my boys have already seen the activities, and they are pretty excited. I will post a few pictures on my Instagram of us doing the projects and to show the final product.
Jacynthe Létourneau – https://www.instagram.com/miss_minamie/