We Craft Box Review April 2020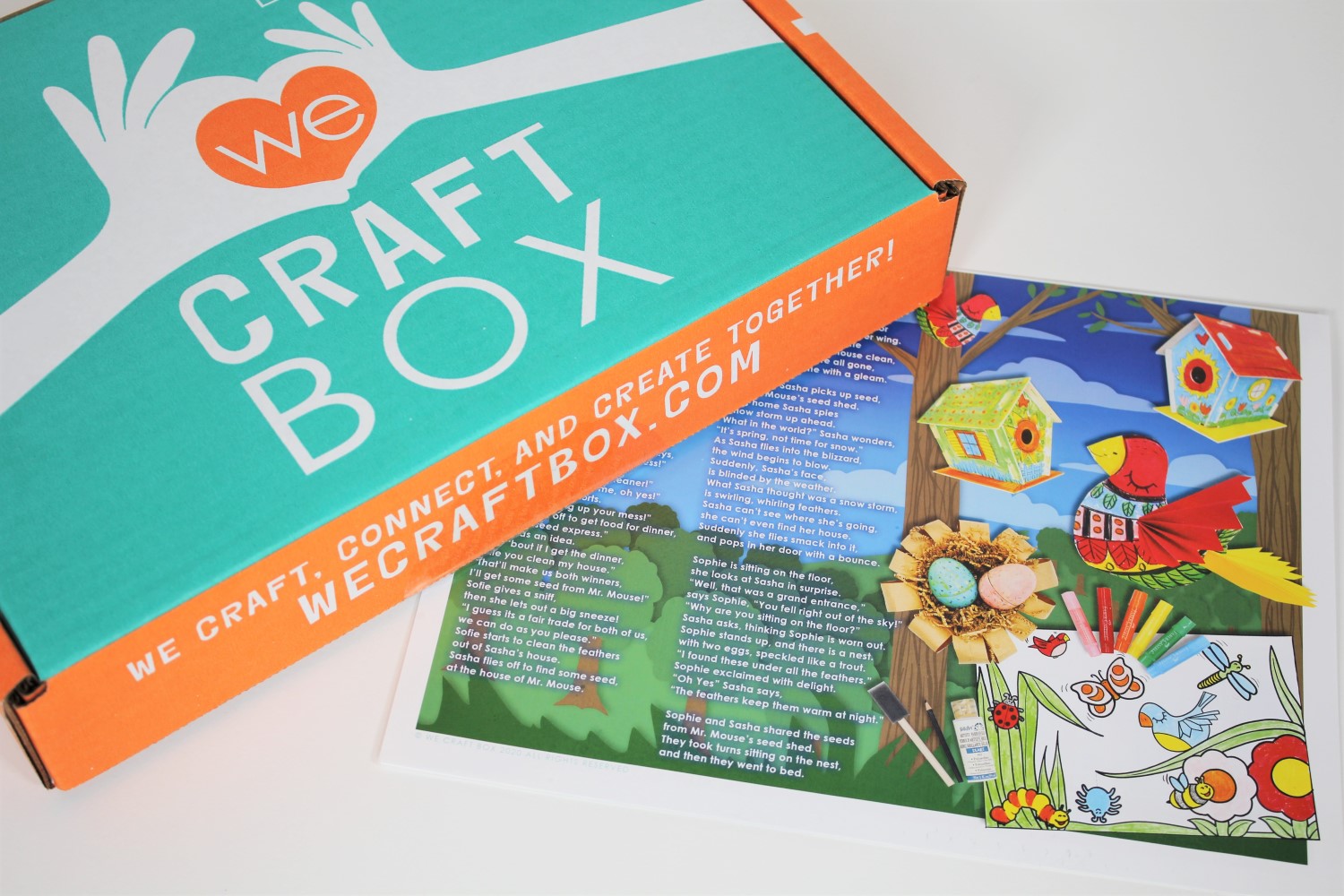 We Craft Box provides you every month with 4 to 5 crafts for you to do with your kids and a story that matches the theme. There is always a cute monthly theme and you get all the materials and instructions to do the crafts. Of course, if your kids feel creative, why not let them go and enjoy the stuff to make their personal creation? No obligations here, just fun!
My kids sometimes just feel like doing exactly as shown because they like it or just go wild and do as they please and I like to see them work hard on all the projects. I will keep this box as a gift for Easter. That will add to the fun of this long week-end.
If you want to try it out, you can buy a box with the theme of your choice for $29.99 + shipping or buy a subscription. Here are your We Craft Box options:
a month to month subscription ($29.99/month)
3 months prepaid ($84.99)
6 months prepaid ($159.99)
1 year prepaid ($299.99)
*Prices are in USD. Shipping is free in the USA. Shipping fees are applied to shipments to Canada.
When you open the box, you first see the instruction booklet, and on the first page, you find the story related to the theme. This month's We Craft Box story is "The Happy Song Bird". The story is perfect for Spring as we are all doing like the little bird, cleaning our nest and getting rid of what we do not need anymore to make more space for all the beautiful things to come.
On the other side of the story page, we get the instructions for the activities. Let me show you the five activities that We Craft Box kindly sent me to review.
First Activity: Making Your Hanging Happy Song Birds
In four of the five activities, we will use the color sticks provided from Faber-Castell. We received similar ones in the December box and liked them a lot. The colors sent this month are perfect for Spring and Easter.
The first craft is hanging birds and it looks super fun. It is a 3D bird made of white and colored paper. You can draw your bird as you like and then add the wings made of colored paper fold into a fan. There are pre-cut holes to put the wings and a pipe cleaner to hang your new little fellow. I might have to up my drawing skills with this one to help my kids in the first step (drawing the details on the bird), but they should be fine with the rest.
Second Activity: Poster Fun
A great activity to test those color sticks. This giant poster is 38.5-inch X 27-inch and there are already some drawings. You can add some details to the existing sketch and even add more doodles and creatures to it. In our poster, I bet there will be a Kirby or a Pokemon added somewhere. This beautiful poster will go in our window in front of our house so that people passing can enjoy our colourful drawing too.
Third & Fourth Activities: Putting Together You Birdhouse and Decorating Your Birdhouse
There are three possible birdhouses, and in your box, you will find two different ones. I received the model A and the model B. The instructions are easy to follow, and I know my boys will be thrilled to make their own construction. There is even a little string to hang it. I cannot wait to make that one!
Once your bird house is made, it is time to put some colors on it. Read the instructions carefully here, since there are a lot of tips to make your project look the best. It is recommended to draw on the assembled house before you disassemble it to draw with the color sticks. To make your little birdhouse elements proof, you will have to pour some varnish on it. I love that everything has been thought through. The project was created so that your kids can really see birds visiting their creation.
Final Activity: Crafting Your Bird Eggs And Nest!
That last activity is super cute and will be perfect for Easter. I love how simple it is to create such a cute nest with only a paper bag. Also, coloring eggs is an activity I wanted to do with my boys, so that is perfect. The final result will make a nice decoration.
We Craft Box Review April 2020 – Final Thoughts
I definitely felt the Spring vibe in the April We Craft Box. The birdhouse made it extra special and my little builders cannot wait to start the construction and decoration of their own little house. The nest will make the perfect decoration on our table for Easter and some eggs might be added after a certain egg hunt I will prepare. In our new home schooling routine, I am very happy to have We Craft Box with us as it is the perfect solution for our crafting sessions.
Jacynthe Létourneau – https://www.instagram.com/miss_minamie/