We Craft Box Review November 2021
We Craft Box is prepared craft boxes delivered to your doorstep! Be creative, make memories, and enjoy time together, as each monthly subscription box comes with a themed story, coordinating crafts, ready-to-follow photo directions, and all material needed that can be shared between two children. They kindly sent us this box for review.
We Craft Box has always been a favourite. I've been following this subscription for a number of years, and one thing is for sure – it's fun, consistent, and a wonderful box for littles!
Subscription Details
We Craft Box has 4 subscription options to choose from….
monthly
3-month
6-month
12-month
Simply choose your plan and subscribe today! All plans come with FREE SHIPPING for the United States. They ship on the first of every month. Give as a gift or treat your kids. Quality family time delivered your door!
Here's a closer look at the craft projects in the November We Craft Box….
The theme for the November We Craft Box is The Great Turkey Escape which is perfect timing for US Thanksgiving.
Here's a closer look at each craft project…
Festive Fall Corn
First up is Festive Fall Corn. For this project we use the coffee filters, beads, pip cleaners and scissors. These little corn crafts would be so cute as table decor.
Glittering Frames & Thankful Turkey Poster
Next up we have Glittering Frames and Thankful Turkey Poster.
The poster is pretty straight forward, but also my favorite project in the box. I love a good colouring session. All you need for this one is the poster and the crayons – simple but SO fun!
The Glitter Frames are actually really fun. You simply add the glitter, water and a few drops of dish soap to the frame. You attached a photo to the back and give it a shake. Once the glitter settles the photo will appear.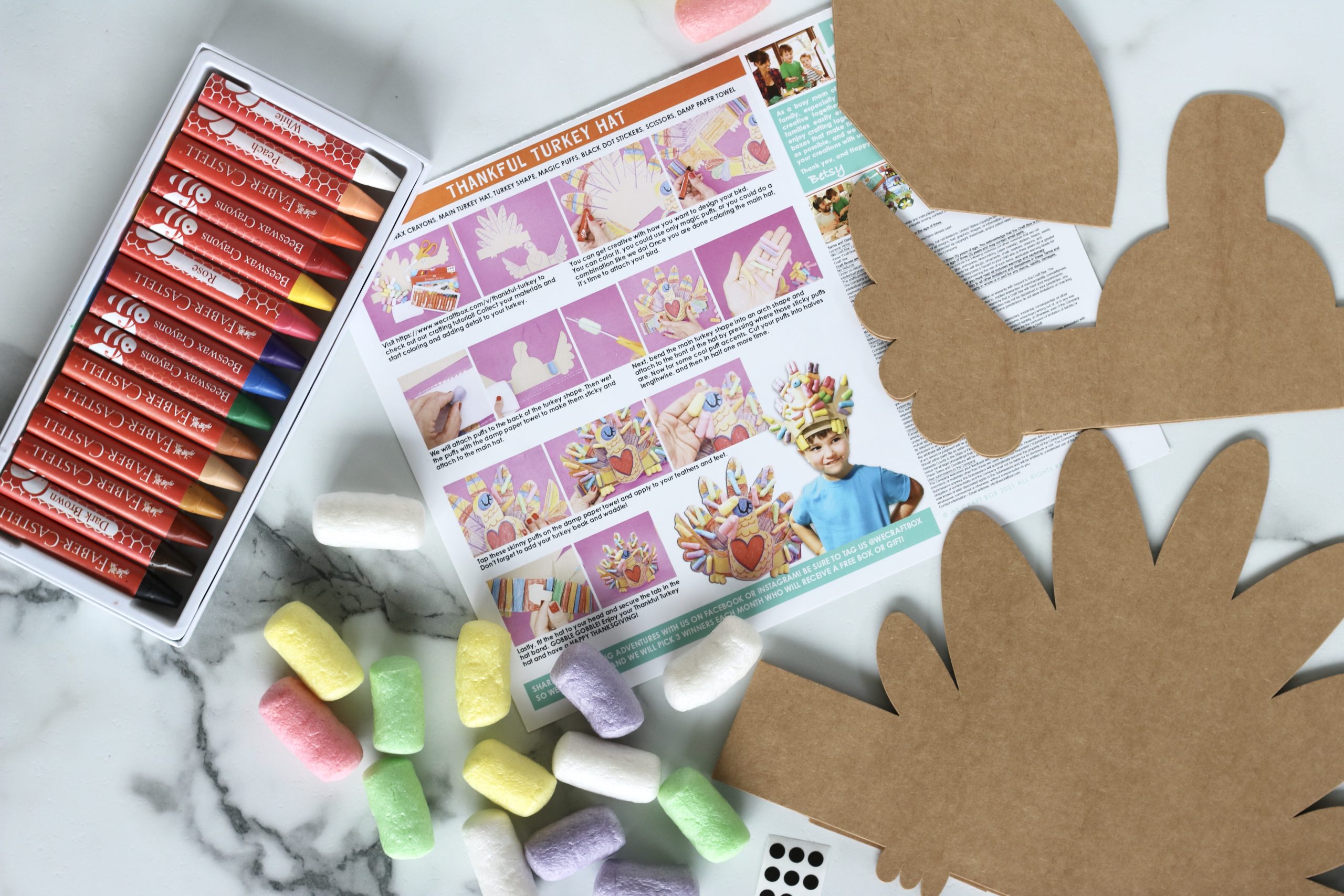 Thankful Turkey & Thankful Turkey Hat
Here we have the Thankful Turkey which uses the cardboard pieces, the pinecones and the puffs. You attach the puffs to the cardboard tail and then place it on the pinecone to create your turkey. Super cute and super fun.
We also get to use the cardboard pieces and puffs to make a turkey hat. Wearable items are often the most fun to make!
We Craft Box Review November 2021 – Final Thoughts
I'm always so impressed with We Craft Box. The box is full of exciting craft projects which are fun for anyone and everyone to make. Take the Halloween box for example, little Steven is still too young to make the crafts himself so I made them for him. I took a couple hours one quiet afternoon, made myself a cup of tea and got my craft on. I also appreciate the fact that they curate boxes according to the season. What a great way for your little ones to celebrate the holidays. This really is one of the best craft boxes on the market!
-AYOB Sarah